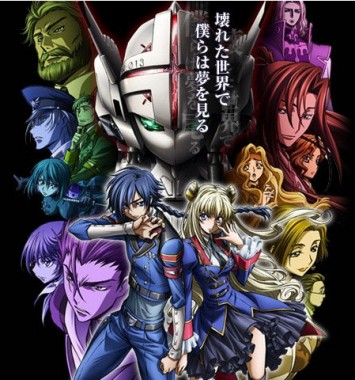 The official website for Code Geass Akito of the Exiled has been updated to include a list of the full casting for the four-part side story.
The debut episode will premiere in Japan August 4th, with the other three to follow seasonally. On July 16th a special screening will be held at Ikebukuro Cinema Sunshine and Shinjuku Wald 9 for die hard Code Geass fans as well.
Check out the full cast below, translated by Crunchyroll.
Miyu Irono (Sora in Kingdom Hearts, Chizuru Tachibana in You and Me, Young Kiritsugu Emiya in Fate/zero): Akito Hinata
Maaya Sakamoto (Fullmetal Alchemist: Sacred Star of Milos, Escaflowne): Leila Marukaru
Sakamoto will also be singing sng from the Escaflowne partnership of Yoko Kanno and Yuho Iwasato.
Satoshi Hino (Bakuman's Akito Takagi, Familiar of Zero's Saito Hiraga, Gintama's Kamui, Naruto Shippuden's Sai): Ryou Sayama
Yoshitsugu Matsuoka (Heaven's Memo Pad's Narumi Fujishima): Yukiya Naruse
Yoko Hikasa (K-on!'s Mio Akiyama, Working!!'s Izumi Takanash)i: Ayano Kosaka
Keiji Fujiwara (Gundam 00's Ali al-Saachez, Tiger and Bunny's Jake Martinez): Klaus Warwick
Yuko Kaida (Ikki Tousen's Shimei Ryomō, Princess Resurrection's Liza Wildman): Sophie Rundle
Shinji Kawada (Naruto's Shino Aburame): Lawrence
Ai Kayano (Aquarion Evol's Mikono, Bodacious Space Pirates' Ai Hoshimiya, Chihayafuru's Kanade Ōe): Anna Clement
Unshou Ishizuka (Cowboy Bebop's Jet Black): Ji~in-Sumairasu
Showtaro Morikubo (Naruto's Shikamaru Nara): Oscar Hamel
Mikako Komatsu ( Bodacious Space Pirates' Marika): Kate Novak
Asami Seto (Chihayafuru's Chihaya Ayase, Lagrange's Lan): Ferirri-Barutorou
Nao Toyama (Horizon in the Middle of Nowhere's Margot Knight, Star Driver's Tiger Sugatame_: Chloe Winkel
Hayami Saori (Bakuman's Miho Azuki, Nisemonogatari's as Yotsugi Ononoki): Hilda Fagan
Natsumi Takamori (Another's Mei Misaki): Sarah Deinzu
Mariya Ise (Panty and Stocking's Stocking, Tiger and Bunny's Dragon Kid): Olivia Lowell
Masaya Matsukaze (Jormungand's Kasper): Shin-Shaingu Hyuga
Kenta Miyake (Berserk movies' Nosferatu Zodd): Michele Manfredi
Takehito Koyasu (Gintama's Takasugi Shinsuke): Andrea Farnese