For most people the 26th of May, 2012 was an ordinary Saturday with next to nothing, or nothing too exciting, to do. But, for the biggest fans of the Supernatural television series, this day was HUGE! The day, Saturday the 26th of April, was huge simply because it was a day that fans of the Supernatural series could get together and celebrate the show with some of the shows memorable cast members.
The day had guest appearances from Richard Speight Jr., Misha Collins, Corin Nemec and Jim Beaver, who fans will be able to recognise as characters from the series. The event also featured many contests, episode screenings and various auctions to raise money for various charities. The biggest attractions however, were the guests question and answer sessions which was where they would have one of the guest come out and then talk about some things briefly before taking questions from people in the audience.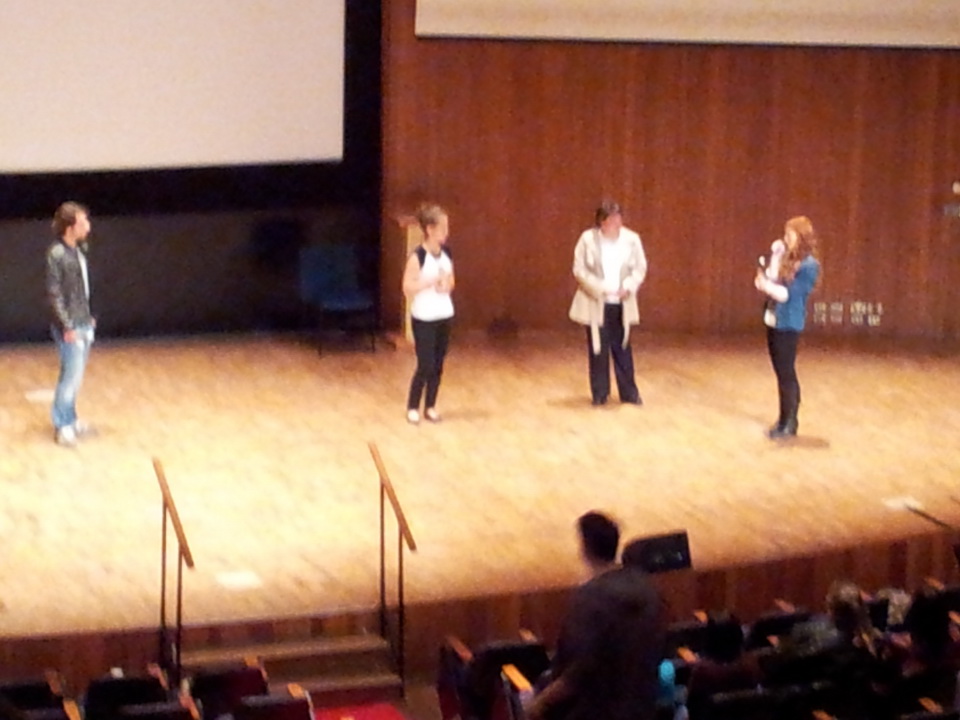 The day began with the introduction ceremony taking place which involved many pieces of important information being divulged to the crowd. It then soon went into time for people to get their photos taken with various members of the shows cast. Whilst people were waiting to be allowed out to take photos (it was a system where only a few people could exit at a time to prevent congestion) various activities, like trivia, were being played in the auditorium. All the trivia winners received some prizes which seemed cool at the time. There were also entertaining clips being played from the series, as well as entire episodes to keep the crowd entertained while they were waiting for to be called out.
While this was happening, we were called out to do our interview with Misha Collins which was fairly amazing. Misha is a really funny guy and he seemed like he was enjoying his stay down here. He also ate a Crunchie, which he seemed to find unfavourable to his mouth. After this we decided to take a short lunch break.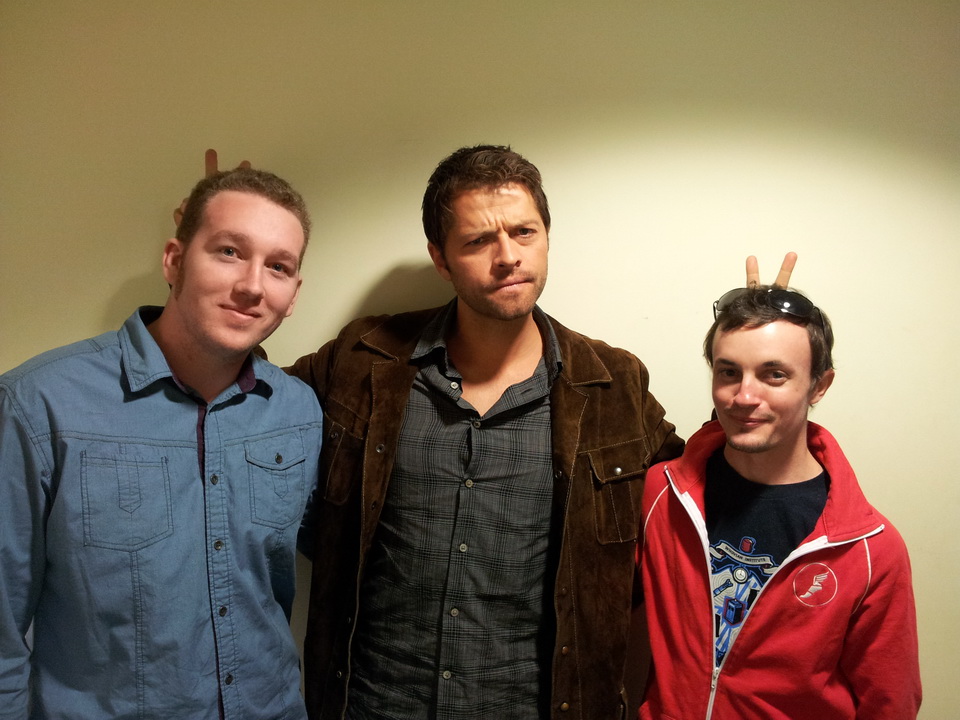 When we returned, it was time to watch Traci Dinwiddie's question and answer section which was highly informative. Traci was quite energetic and talked a lot about toilet humour, which I thought was quite strange. I guess that actors are people too afterall. As a part of the crowd we were also treated to her lovely singing and drum/bongo playing and were even invited to join in as part of a chorus. It was too bad that only half of the crowd joined in, but it was still something cool to be heard.
After a short intermission Richard Speight Jr. and Corin Nemec took to the stage. These two guys bounced off each other so well as well as with all the people who participated in the the Question and Answer session. One of the biggest highlights of this Q&A session was when both Richard and Corin walked down from stage and up through the crowd as a display of some kind of Aussie sexiness meter. The further from the front you were, the sexier you would be. We were right near the back, us sexy beasts. Just remember, Australia is full of sexy people. Oh! And another great moment was when Richard did the Cossack dance on stage in response to a timid girls question about what Bobby's favourite dance move would be (Richard approached the girl in order to see her written question when he discovered the question intended for Jim underneath).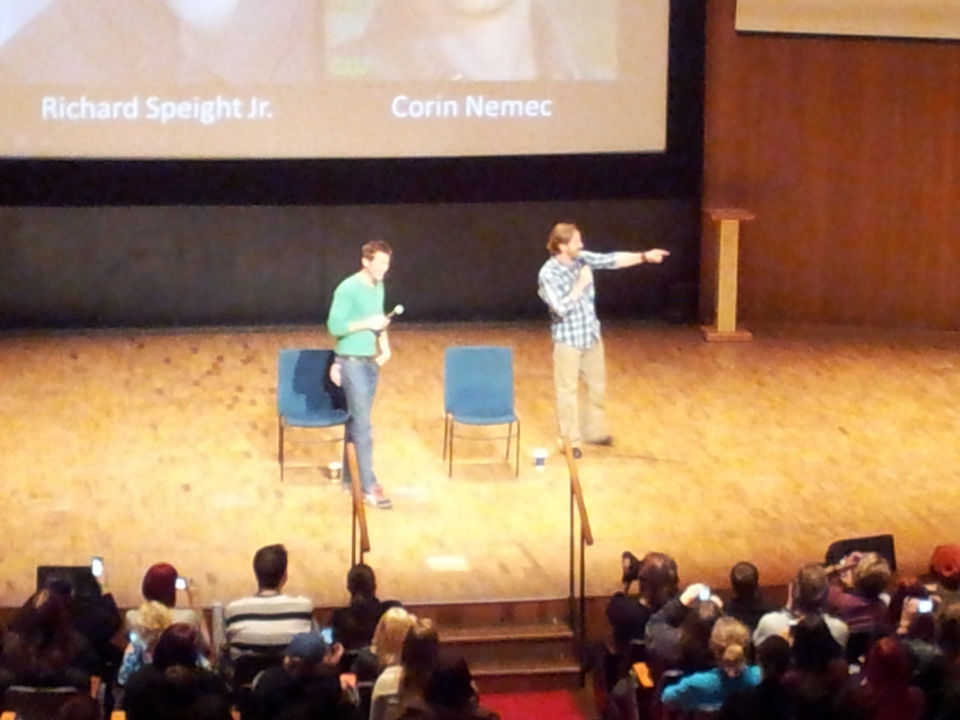 Jim Beaver was the next to take the stage and he was a fairly informative kind of guest. One of the best moments from his panel was when the Audience tried to goad him into doing the time-warp by taking a jump to the left and then by taking a step to the right. However, there was no hands on hips or bringing of knees in tight for this audience. Jim did however quote 'Idgits" a few times, which is his characters signature catchphrase and one that never gets old.
From here, Jim's Q&A session ended and it was time auction off a signed cap, which was signed live in front of the audience which gave it that much more of an authentic feel. The battle was intense and the auction war waged fiercely. However, from the flames of the war, the could only be one winner. And there was. And that winner paid over $1.5k. So congrats to the winner.
Next up was every fan-girls wet dream, Misha Collins. Misha pretty much owned the crowd as soon as he entered the room. Of course, the audience was already willing plenty for him to take control of them as evidenced by the incredibly massive cheers that went on for multiple minutes. During his question and answer segment, he frequently lamented on how he was being much more vulgar than usual, but I don't think the crowd minded it at all. Misha was full of stories and info on the show and was easily the crowds most favourite guest (mine was Richard, but let's not get into that). He also referenced our interview and glanced at us a few times, if I was a fan-girl, my heart would have been throbbing.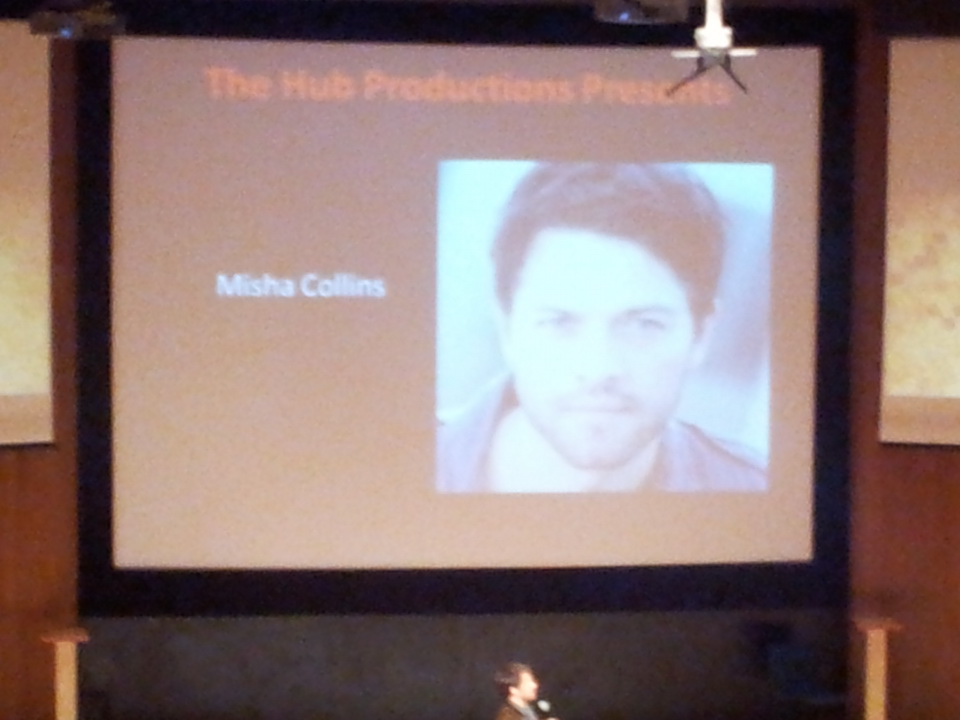 After Misha's question and answer segment, it was time to auction off a shirt marked by Misha for charity. Throughout the auction, Misha tried drawing on himself, then on floor and then behind a chair. I'm fairly certain that the winner of the auction ended up with a shirt with a doodle of a doodle (penis). Though this auction was quickly subverted by another in which Misha was auctioning off what he claimed to be a stolen set-piece where the proceeds would go to the charity that he did work for. I was surprised that the item sold for as little as it did, considering the larger sums the (in my opinion) lesser items received.
Afterwards, Corin returned to the stage to do a similar shirt signing and auction. For his, he doodled a representation of the male physique (abs, chest muscles) and attempted a 'Snail-trail'. I thought the shirt was quite humourous and I'm sure that the person that ended up with the item of clothing was quite pleased.
Unfortunately due to time constraints, Luke and myself had to leave during the next auction, which was for various items from other conventions that may have been related to Supernatural. Congrats to everyone that won something from those.
Overall the All Hell Breaks Loose III convention from The Hub Productions was a fairly interesting and entertaining convention to attend. Both myself and Luke left the convention discussing all the enjoyable parts of the event and how awesome all the guests were. I think that this will be a hard convention to beat in terms of pure entertainment value and I hope that All Hell Breaks Loose IV is just as good, if not moreso.
Be sure to check out the All Hell Breaks Loose website for future conventions.