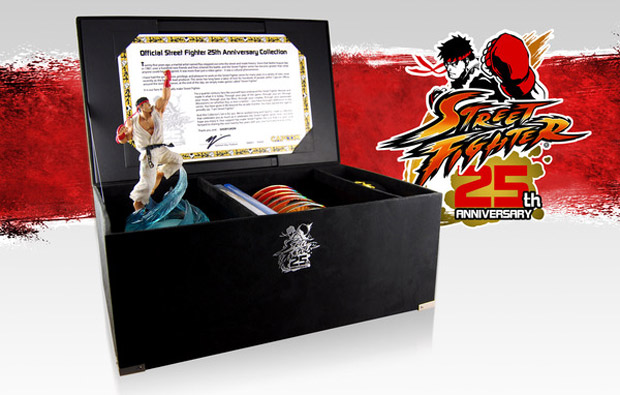 It is hard to imagine that it was 25 years ago that Street Fighter was created. At that time nearly everyone on our staff wasn't even born yet. To commemorate Street Fighter's 25th anniversary Capcom is planning to release a large collector's set that includes practically everything a Street Fighter fan would ever want.
The package will contain a number of games, music, movies and material goods as well. The package is set to hit stores on September 18 and will cost an understandable price of $150 when it is released for the Xbox 360 and PlayStation 3. Considering the fact that this release also contains Street Fighter X Tekken, that means this could also be seen as a very extravagant special edition as well. The full list of everything included in the package can be seen below but it is quite obvious that the light up Ryu statue and Ryu's belt so any fan of Ryu is going to want this package.
Past and Present Street Fighter Games – Playable on current gen PS3™ and Xbox 360 console systems, the four critically-acclaimed titles selected from the star-studded catalog are: Super Street Fighter® II Turbo HD Remix, Street Fighter® III 3rd Strike Online Edition, Super Street Fighter® IV Arcade Edition with all costume DLC, and Street Fighter® X Tekken® including all character and Swap Costume DLC.
Exclusive Video – The two-disc Blu-Ray set includes a documentary that highlights the profound influence the franchise has had on fans – and vice versa – throughout the years. The collection of videos also includes Street Fighter®IV and Super Street Fighter®IV Anime movies as well as all episodes of the Street Fighter animated series and Street Fighter®II: The Animated Movie.
Light-up Ryu Statue – A specially commissioned and highly-detailed collectable Ryu statue stands prominently at 8" tall and features the iconic character in mid-Shoryuken, with flames lit from below.
11-Disc Soundtrack – Street Fighter game music spanning the past 25 years, in addition to remixes and fan-created music inspired by past Street Fighter games .
64-page Hardcover Art Book – A tribute to Street Fighter game fans from all over the world, the art book includes fan pieces submitted by professional and aspiring artists alike.
Ryu's Belt – Created to regulation specs, the full-size martial arts black belt is a replica of the one Ryu wears and even includes his classic "Fūrinkazan" in kanji!
Certificate of Authenticity – Each Collector's Set comes individually numbered complete with a certificate of authenticity.