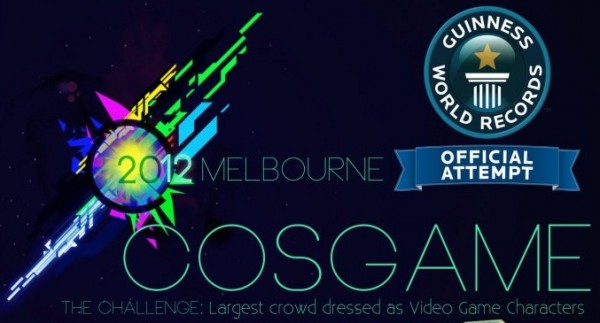 If you were wandering through Melbourne on Saturday, you might have been pickpocketed by a hooded assassin, noticed an unusual amount of plumbers in red and green, or heard the disturbing hiss of a Creeper.
Characters from video games were spotted all over the city, but they were concentrated in Federation Square, where an attempt to break a Guinness World Record was underway.
The previous record for Largest Crowd Dressed As Video Game Characters was held by a town in Wisconsin, USA, with 425 participants.
The Melbourne attempt, organized by the Academy of Interactive Entertainment (AIE), boasted 470 participants. The official results are still being processed by Guinness, but it seems we have a new champion.
I spoke to Mark Libman, AIE's Communications Coordinator, and primary organizer of the event, about what it takes to break a world record.
How happy were you with the turnout and result on the day?
I was actually in shock. I did not expect that many people to turn up and stay once the rain started. I always knew we would be able to get over 425 participants but getting them to line up for registration, then line up again for photos and line up a third time for the record attempt was asking a lot. But the people of Melbourne really demonstrated just how determined we are.
What other activities took place on the day?
We were very fortunate to have Red Bull and Nova as partners. So the Red Bull Wings team were handing out drinks to all the participants waiting in line, and the NOVA Casanovas did a great job entertaining the crowd with some interviews, competitions and even a Dance Off. We also had a DVD on the big screen TV showing all our partners' products, games and events, as well as a lot of AIE student work. Our own AIE teachers Shawn and Adam did a great job entertaining the crowd and giving away prizes, such as copies of The Darkness II, tickets to The Comic's Lounge and even video game figurines from Gametraders.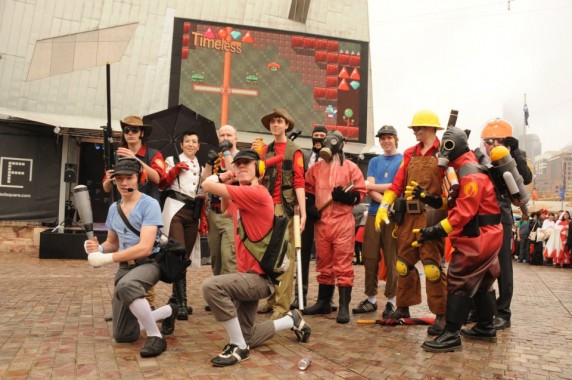 What were the major goals of the event, for yourself and AIE?
My first goal was simple… to make people smile. I can say that even though it was freezing cold and raining like crazy, everyone was still smiling and in great spirits.
The second goal was to demonstrate the job opportunities that are available in the Video Games industry, thanks to our courses at The Academy of Interactive Entertainment. Everyone that participated has a showbag with all our of brochures, flyers and even FREE courses. These are people that may have never heard of AIE and are now aware of the career paths.
Finally, our goal was to set a new world record for "Largest Crowd Dressed as Video Game Characters". We have achieved that with 470 people, but Guinness have to approve and recognize the attempt first by going over all the evidence.
What were the most popular costumes?
There were a variety of very popular costumes from games such as Assassin's Creed, Pokémon, Final Fantasy and Metal Gear Solid.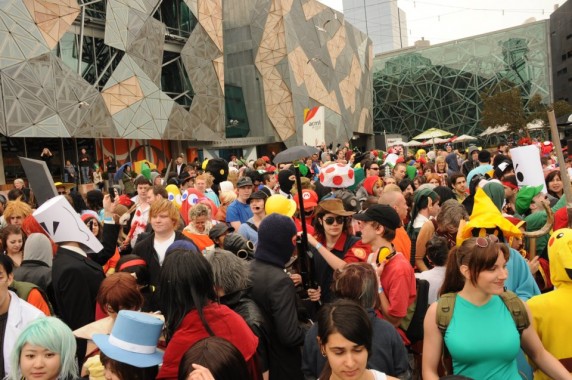 What were some of the most obscure costumes you came across?
I think the one girl that dressed as Ysera from World of Warcraft. She was pretty much not wearing any clothes, but had full purple body paint all over. This was a very brave and determined thing to do, considering the weather.
How did the idea begin?
This began as a normal dress up day, which is something we have done on a regular basis to get the students to network with each other at the beginning of the year. The problem was that this particular year we have so many students on the campus that we can't have them all here at the same time, due to safety reasons. So we thought about taking them to the park, and then that evolved to Federation Square. From there, we quickly thought of trying to get more people involved and breaking a world record whilst we are at it.
How long was it in planning?
This event took nearly 3 months for me to put together, with a lot of late night and weekend work. As I had to continue my role with School Visits, Work Experience Students, Expos and more it was an interesting task to add to my very busy role already. That said, it was something that I enjoyed very much and would do it all over again in a heartbeat.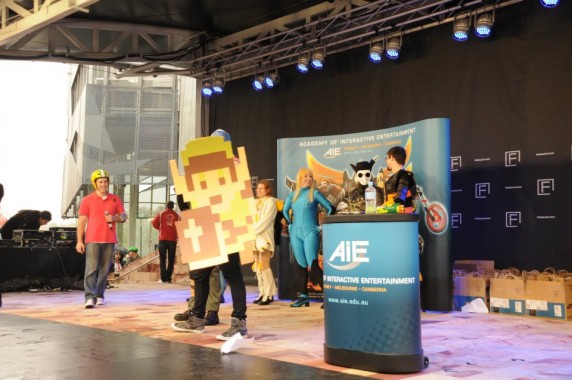 How does one contact Guinness World Records for a legitimate record attempt?
They can go to http://www.guinnessworldrecords.com/ and go through all the details then sign up.
Were there any major obstacles that had to be overcome, during planning or on the day?
The only major obstacle was the weather. I remember that morning how happy I was to see the sun and a clear blue sky, and then by the time I had arrived at Fed Square how dark and cold it was.
That said, I actually believe the weather was a blessing. Besides everyone freezing and soaking their costume, the TV screen looked fantastic and more importantly any spectators from the public stayed far away under cover. This made in much easier to approve everyone and get their photo taken.
At the end of the day, we did the best we could and did everything that Guinness required such as Witnesses, Aerial Shots, Counting System etc. If for whatever reason Guinness disqualify this attempt, we will definitely try this again… maybe in Summer though.
For more information on AIE, visit their website and Facebook page.
All images are from AIE Melbourne.