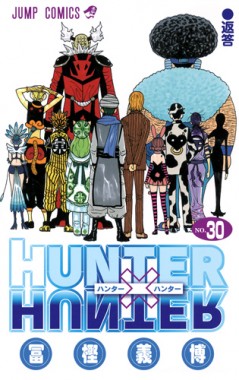 If you were ever worried about whether or not Yoshihiro Togashi's popular shonen manga Hunter x Hunter could survive through his frequent hiatuses, well the proof is in the numbers. Last month the 30th volume of Hunter x Hunter was released and it's first week's sales numbers have now come to light. In it's first week on sale it sold 638,907 copies, an impressive feat for any manga.
The series itself has been hampered by Togashi's frequent hiatuses, but despite that it continues to make it's way to the top of the manga sales charts every time a new volume is released. That itself is a testament to the quality of Togashi's manga which has spawned a rabid following over the course of nearly 15 years since it begun serialization in Weekly Shonen Jump.
What do you think of these impressive sales figures for the 30th volume of Hunter x Hunter? Let us know in the comments section below.