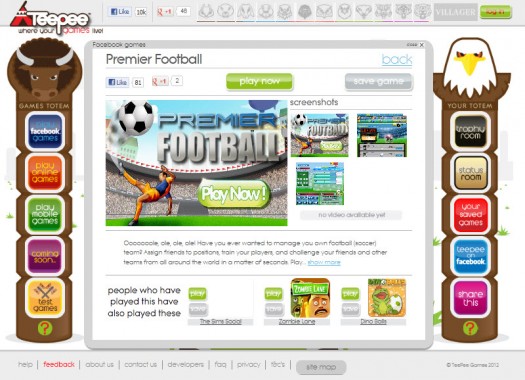 TeePee Games, one of the leading discoverability specialists for social, smartphone, online flash and MMO games, has announced that it has formed a partnership with PageFad LLC to promote the game Premier Football.
Premier Football, the Facebook title by PageFad LLC, will now be available on the TeePee Games network. In addition to other popular sports titles, Premier Football will be personally recommended to users by TeePee Games who would be interested in the game.
Premier Football is the flagship title of PageFad and was launched in 2008 to give the community a free online football manager simulation. In the game, players can create, train and manage a football team made up of their Facebook friends, who will then compete it leagues, cups and friendlies. The game at the moment has attracted millions of fans across 150 different countries worldwide.
Matthew Alfin, Product Manager at PageFad, comments; "The Euro 2012 and London Olympics are just around the corner, so it's going to be a huge year for sports and Football in particular. With TeePee Games fast establishing itself as the go to games discoverability specialist, there was no better time for us to reignite interest in one of our most popular titles – when Premier Football first launched it went on to become the number one game on Facebook.
"In the last 90 days, Premier Football has achieved a 210% increase in daily active users and a 260% increase in monthly active users. With the help of TeePee Games we're confident that we can continue this terrific success and achieve even higher levels of growth in the near future."