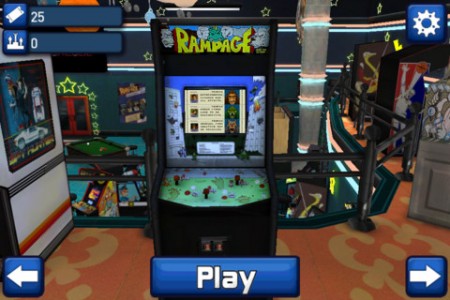 Warner Bros. Interactive Entertainment has announced that its popular Midway Arcade App is now compatible with iCade, the retro arcade-style cabinet for iPad. The miniature wooden cabinet is perfectly sized for iPad, and connects via Bluetooth to a full-sized joystick and buttons for a genuine arcade experience.
Midway Arcade provides a virtual showroom equipped with 10 classic arcade games, tickets and virtual prizes. The app allows players to enjoy arcade games like Spy Hunter, Joust, Rampage, Defender and more, along with four skill-based games. Players also have the option to purchase additional Midway classics through In-App Purchase. The Fantasy Game Pack includes Gauntlet I, Gauntlet II and Wizard of Wor, while the Action Game Pack unlocks APB, NARC and Total Carnage. Players compete against their friends, earn achievements and dominate online leaderboards.
The Midway Arcade App is available for $0.99 from the App Store on iPad, iPhone and iPod touch.