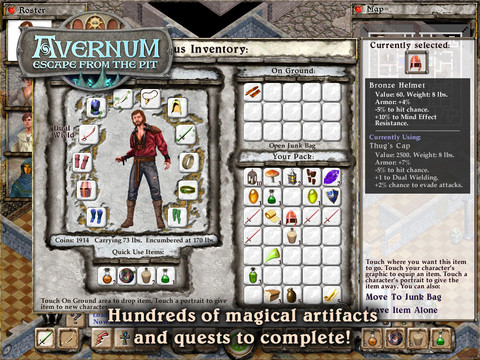 Here we are again, MasterAbbott is back for this week's iOS Game Suggestions. If you missed out on last week's suggestions, click on the links below and check what cool games you should be picking up for your iOS along with the introduction and disclaimer on how my suggestions work, as I'm not going through the same old intro every week. (suggestions 1 has the disclaimer)
MasterAbbott's iOS Game Suggestions
What I've also introduced is video game play footage (if it's possible) on some of the iOS games I've suggested, you can check this out at the bottom of the article. Currently video game play footage for this week's suggestions are not available, check back in a few days there will be some more added. For now, if you jump into previous suggestions there are a few videos to check out.
Once again it's been a great week on iTunes, so many amazing games were released, this week I've suggested a total of 31 great quality titles. As always for this week's suggestions are all new titles that you should also take a look at to spend your hard earned iTunes cash / time on. This week I've focused on all three categories FREE, 99c and over 99c titles. These games are all well worth taking a look at.
For The Cheapskates – FREE GAMES
 

MASTERABBOTT'S FREE PICK OF THE WEEK

Saturday Morning RPG – Price : FREE – Publisher – Joystick Labs. (Saturday Morning RPG is an episodic role-playing game firmly set in a world inspired by 1980s Saturday morning cartoons. The game follows the story of Martin "Marty" Hall, an average high school student who has been gifted a powerful ability to channel magic through everyday objects. With his newfound powers Marty has inadvertently attracted the ire of the world's most heinous villain – the evil Commander Hood. This leads Marty into a series of dangerous plans that he must unravel to save the world (several times!). ) on iPhone & iPad. GET IT NOW FOR FREE

Tiny Bamboo – Price : FREE – Publisher – Freetouch Studio. (Once upon a time somewhere in a forest, there lived a little spirit of nature, named bamboo, he wore a coconut to protect himself from evil. Why?  We are not sure.  His goal in this game is simple, pass the beach ball to bamboo collect the stars and save the day.  Game works very similar to other physic style games.  Game features: Easy to learn! your finger is the joystick, Cool sound fx/graphics, 44 levels for the moment, but soon, hundreds ! ) runs on iPhone & iPad. GET IT NOW FOR FREE

 
Ninja Pig – Price : FREE – Publisher –

Plastic Cow Games

.

(Tired of seeing poor defenceless pigs being used as cannon fodder by pesky birds? Well fear no more. Ninja Pig is here to settle the score. An avian invasion has taken place all across the world and birds everywhere are attacking cute little pigs for no reason.
Use your eggceptional sword skills to slice your way through these flocking feathery assassins and put an end to their fowl game. Slice multiple critters in quick succession to achieve combos and a perfect slice through the centre is rewarded. Beware. Other ninja pigs are in the area trying to rid the lands of these pests.
Just DON'T SLICE THOSE PIGS!

) runs on iPhone & iPad.

GET IT NOW FOR FREE

 
Draw Slasher: Origins – Price : FREE – Publisher –

Mass Creation SP.

(In July of 1986, a covert team of special forces led by your brother Ajax were sent into the jungles of South America to investigate an extra-terrestrial object of unknown origin. They were never heard from again and the mission was buried. Your superiors told you to "drop it", that it was "above your pay grade". Good thing you never listen. At 0800 hours, a prototype Delta Hawk recon vehicle dropped you into enemy territory. If you want to survive, you can never ever stop running, and never take you finger off the trigger.) on iPhone & iPad.

GET IT NOW FOR FREE

 
Agopia's Zombie Mayhem – Price : FREE – Publisher –

Agopia.

(The Far West, land of new hopes, territory of magical mysteries and hungry zombies. Yes, hungry zombies. Among the charlatans who abound on the roads from village to village, sometimes some say the truth about the spells they have. You, for example! From the depths of your potions, you released one of the worst concoction to punish those pesky villagers who fooled you, you have given (non-) life to your beautiful Corruptor, ready to launch putrid organs and zombify every living who cross his way. The Gold Rush will soon turn into wild escape!) on iPhone & iPad.

GET IT NOW FOR FREE

 
Amoebas Attack – Price : FREE – Publisher –

Pixofactor.

(In 'Amoebas Attack!' players control an anti-body on its journey through the body to defeat various infectious invaders. This unique and exciting game is an arcade dual stick style shooter with a twist: the player travels horizontally to maintain their current level of difficulty or travel vertically between capillaries to increase or decrease their difficulty.) on iPhone & iPad.

GET IT NOW FOR FREE

 
The Tribez HD – Price : FREE – Publisher –

Game Insight.

(Tribez is not just a game! Tribez is an adventure, where you travel to a distant past full of secrets, mysteries and many hours of addictive discovery of an unknown, but beautiful world! You are invited to visit a mysterious, primitive world inhabited by a peace-loving people, who have been hidden behind a miles-deep portal from time immemorial. Build your own stone-age village, explore territories hidden by mountains and seas, and lead your tribe, who considers you sent by the gods, to prosperity.

) runs on iPhone & iPad.

GET IT NOW FOR FREE

 
Ice Age Village – Price : FREE – Publisher –

Gameloft

.

(The official Ice Age app is here! Scrat's hunt for his favorite acorn has opened a crack in the Earth's crust, sending the animals scurrying for safety. Manny, Ellie, Diego and Sid decide to build a new village for their displaced friends. Help them in this heroic challenge and get ready for fun and surprises along the way!) runs on both iPhone & iPad.

GET IT NOW FOR FREE
For The Bargain Hunters – 99c Games
 

774 Deaths – Price : $0.99 – Publisher – Square-Enix. (774 Deaths is a murderously difficult action platformer that is certain to chew up and spit out even the world's best gamers.Inside, you'll find 9 unique rooms and 33 mysterious doors, with each stage more demanding than the previous. Are you ready to put your life on the line in one of the most grueling games ever made? Features
– Over 74 hours of gameplay!
– Over 774 ways to die!
– Game Center functionality (game progress)) runs on iPhone & iPad. BUY NOW

The Hotel Z – Price : $0.99 – Publisher –

Sevens Entertainment.

(The Hotel Z: Use Your Hotel to Fight Back Against the Aliens! You have to fight for the sake of Earth! – Project Earth Defense, Mr. Lee. On a night when the sky is blotted with shooting stars, Space Cop La Treor comes to Mr. Lee. La Treor works undercover in Mr. Lee's inn to protect the Earth from alien attack. The alien invaders' mission is to capture La Treor and conquer Earth. Mr. Lee joins forces with La Treor against their common enemy. You're the guardian of Earth, disguised as a hotel owner. Develop your hotel to protect the Earth against alien invaders.) runs on iPhone & iPad.

BUY NOW

 
Bag it! – Price : $0.99 – Publisher –

Hidden Variable Studios.

(Heavy, sturdy items on the bottom, light and fragile items on the top – seems simple, right? Think again! Hours of fun & addictive gameplay : 50+ unique levels!, Standard, Rampage, and Puzzle modes! Try to get 3 stars and both medals for each level! Master them all! 3 unique Endless Modes! FEATURES: Your grocery characters come to life – it's like "Tetris meets Toy Story"! Unique grocery combos – try to find them all! Custom tailored translations in 7 languages Game Center with Leaderboards) runs on iPhone & iPad.

BUY NOW

 
Musical Stick Man – Price : $0.99 – Publisher –

Spitwebsolution.

(Do you Love Music games with exciting levels? Than download this cute Musical Stick Man game.
Stick man runner has 30+ exciting levels…you have to run and jump also you have to collect the songs characters, and you also need to collect key others wise you will not go into other level. While running many obstacles like fighters,devils,bees,tanks,bullet are coming in Stick man's way to stop, but you have to save someone and help her to reach home safely, but remember you need to take a key which will come in your way if you not than you will not go into the next level.) runs on iPhone & iPad.

BUY NOW

 
A Little Turbulence – Price : $0.99 – Publisher –

With, LLC

(A Little Turbulence is a retro-style game for the iPad, iPhone and iPod touch. Guide your cloud through the sky and absorb other clouds to increase your mass. Your mass determines if you can either destroy or get hurt by the birds, hand gliders, biplanes, jets, helicopters, balloons and other objects flying in the sky. Once your cloud reaches it's maximum mass you temporarily explode into Rage Mode! Earn points, collect pickups, and try to survive for as long as you can!) runs on iPhone & iPad.

BUY NOW

 
Don't Kill The Squirrel! – The Action is in the Distraction! – Price : $0.99 – Publisher –

Warning Label Games.

(Cartoon chaos on the road as you swerve 'n' dodge your way through suburban streets. How long can you juggle distractions – text! phone! the radio! – while avoiding cute cartoon squirrels and tons of hazards? Whatever you do Don't Kill the Squirrel! Game Play is intuitive, if something blinks tap it, to turn, drag the steering wheel with you finger, the gas and brake work as expected. More details about game play on the website.) runs on iPhone & iPad.

BUY NOW

 
Puncho Fighto – Price : $0.99 – Publisher –

Creative Submersible Research.

(Puncho Fighto is a 2D fighting game designed for the touch screen. Puncho features: Gesture-based controls for almost everything. A perfectly nice joystick for when you feel like using it. Ragdoll physics, 6 characters and backgrounds in hi-res retina graphics. 5 AI difficulty levels, a unique two-player split-screen mode best suited for iPad. Plus rambling character stories that make little sense!) runs on iPhone & iPad.

BUY NOW

 
Treasure Swipe – Price : $0.99 – Publisher –

Workinman.

(Long ago, a mighty wizard built Treasure Swipe Castle to guard his limitless wealth and terrible arcane secrets. Then he mysteriously vanished! Now the castle's treasure awaits. Are you brave enough to claim them? Treasure Swipe features addictive arcade gameplay with RPG elements. Explore the haunted halls of Treasure Swipe Castle! Battle wave after wave of ghastly monsters! Defeat enormous bosses! Collect rare hidden treasure to boost your power and become the Ultimate Treasure Swiper!) runs on iPhone & iPad.

BUY NOW

 
Generator Rex – Enemy Alliance – Price : $0.99 – Publisher –

Turner Broadcasting Service.

(Use Generator Rex's awesome nanite powers to battle the evil computer ZAG-RS in this action-packed beat'em up from Cartoon Network! Generator Rex is your average teenager, except he can control nanites, tiny machines that let him build all kinds of outrageous weapons out of his own body. But when Rex is trapped in the desert and quickly losing nanites, he has to team up with his arch nemesis, Van Kleiss, to stop the evil computer ZAG-RS from destroying the world. Can you defeat ZAG-RS's endless army of rock creatures and shut down the central AI before it's too late?) runs on iPhone & iPad.

BUY NOW

 
Peakour for iPhone & iPAD – Price : $0.99 – Publisher –

Gotta PEA.

(Take on the role of PeaG as he skillfully manuevers through 100 challenging parkour puzzles while avoiding the ZomPeas. Position bits of junk with varying shapes and physical attributes to manipulate PeaG to perform cool tic-tacs, back-flips, rolls, cat leaps, grinds, vaults and spring jumps. Best of all, collect 250 bottle caps and create your own levels to share with friends and other players.) runs on iPad & iPhone.

BUY NOW

 
Skylanders Cloud Patrol – Price : $0.99 – Publisher –

Activision Publishing.

(SOUND THE ALARMS! THE TROLLS HAVE ESCAPED!! Join TRIGGER HAPPY and the rest of the SKYLANDERS as they patrol the Skylands for escaped trolls! Grab your favorite Skylander and take to the skies in your flying gunship to put those troublesome trolls in their place – Skylanders style. Not familiar with Skylanders? No problem! Cloud Patrol is an easy to learn, action-packed game that everyone can enjoy. ) runs on iPhone & iPad.

BUY NOW

 
Beeing – Price : $0.99 – Publisher –

Chillingo.

(Experience the joy of flight as Beeing, a decidedly un-bumbling bee on a mission to save lost comrades scattered through nectar-filled fields. Collect as much of the sweet stuff as possible to post amazing high scores. CONTROLS AS SWEET AS HONEY: Easy-peasy touch controls let you concentrate on saving bees and racking up point multipliers. Slide your finger up and down the screen to guide Beeing through hazardous courses across five episodes, including midnight flights over a farm and a gorgeous field of flowers.) runs on iPhone & iPad.

BUY NOW

 
Captain Nova – Price : $0.99 – Publisher –

Caffeinated Pixels.

(Captain Nova is a retro style platform game made in the style of classics you know and love! After crash landing on a strange planet, Captain Nova realizes that pieces of his ship have been scattered across the planet's surface. His only hope is to find all of the missing pieces and rebuild his ship. It's not going to be easy though, the planet is filled with all manner of disagreeable creatures and bizarre plant life. Will he make it? Only you can find out!) runs on iPhone & iPad.

BUY NOW

 
Retro Games – Price : $0.99 – Publisher –

Elite Systems.

(Download this App to receive BRUCE LEE and to get 9 more classic 8-bit home computer games for NO ADDITIONAL FEE! Then, collect up to 100 classic 8-bit home computer games as they're added to the In-App Shop each month.  Relive the Golden Age of Gaming with a collection of the most popular retro games from the 80s and 90s. This extensive catalogue pays homage to each of the originals, with controls designed to mimic what 8-bit home computer game fans remember from 30 years ago! For those who love the classic gaming experience, this hand-held breakthrough is sure to guarantee hours of fun. ) runs on iPhone & iPad.

BUY NOW

 
Lawnmower Challenge – Price : $0.99 – Publisher –

Luna Enigma.

(Plan your way through complex puzzles, a dozen different obstacles, and earn as many stars as you can! Collect keys to unlock gates, plant seeds into mud, light torches to brighten a dark path, chop trees down that are in your way, and mow all the grass! Lawnmower Challenge features hours of gameplay, beautiful art, and fun puzzles. Anyone who loves to play puzzle games needs to test their puzzle solving skills with Lawnmower Challenge. Each of the 48 levels requires logic, planning, and smarts to complete. Perfect for casual players and seasoned puzzle masters! More levels, exciting new worlds, and complex obstacles will be added in future updates for free!) runs on iPhone &  iPad.

BUY NOW
For The Millionaires – All games over $0.99
 

MASTERABBOTT'S 99c PICK OF THE WEEK

Avernum: Escape From The Pit HD – Price : $10.49  – Publisher – Spiderweb Software. (Avernum: Escape From the Pit HD is an epic, indie fantasy role-playing adventure. It is optimized for the iPad and features an enormous world, a fascinating story, and 30+ hours of gameplay. Avernum is the first chapter in an epic tale, the story of imprisonment, rebellion, and the struggle for freedom against overwhelming odds. You have been banished to the underworld, never to see the light of day again. The surface is ruled by the cruel Emperor Hawthorne, master of the Empire. All of the known lands are subject to his brutal command. Everyone who speaks out, who misbehaves, who doesn't fit in is cast into the dark, volcanic pits of Avernum, far below the surface. There, you are expected to die, a victim of starvation, horrible monsters, or simple despair.) runs on iPad. BUY NOW

 
Walking Dead: Prologue – Price : $5.49 – Publisher –

Ti Knight, Co

. (In 2012, the sun activate abnormally, the earth's interior energy balance system facing collapse. Maya prophecy proved to be true,and the human are facing vanish from the earth. The biological weapons in many countries have leaked. The victims of biochemical weapon gradually became zombies and constantly attack the survivors.People attacked by zombies also infected by the virus and became new zombies. Life is full of panic. In such circumstances, as a former contract killer,you decided to stand up and resist the vicious zombies attack, to save humanities!

) runs on iPad.

BUY NOW

 
Amoebattle – Price : $5.49 – Publisher –

Grab Games

. (Amoebattle brings the action and excitement of the RTS and reimagines it for the iPad, iPhone, and iPod Touch to deliver an experience unlike anything else. THE BATTLE FOR PRIMORIDAL SOUP-REMACY – Lead your group of amoebas against a fast spreading infection that threatens the microscopic world. Built from the ground up for the mobile touchscreen, Amoebattle delivers a highly unique RTS experience for newcomers and veterans alike.

) runs on iPad.

BUY NOW

Brain Battle Show DeLuxe – Price : $1.99 – Publisher –

TIKTAK Games

. (Welcome to Brain Battle Show, the TV program where you'll compete with up to 4 friends in multiplayer mode to prove you are the smartest.
You will compete against your friends or people around the world in 4 consecutive 1-minute intelligence tests.
Each test belongs to one of our intelligence categories: Logic, Perception, Memory and Calculus. If you want to train your neurons, you can try our singleplayer mode or our training mode where you'll be able to get ready for a specific game.) runs on iPad.

BUY NOW

 
Bug Princess 2 – Price : $1.99 – Publisher –

CAVE

. (Introducing the sequel to the highly-rated title "Bug Princess"! Bringing "Bug Princess 2" straight from the arcade! Guide one of the two playable characters, Reco or Palm through storms of bullets and set off for an adventurous journey to Utakata Village! 3 different game modes with 4 levels of difficulty. Original Mode: Not too many bullets. Maniac Mode: Relatively large number of bullets. Ultra Mode: Extreme bullet hell. Try all the game modes! You can choose from 4 difficulty levels: Novice, Normal, Hard, and Hell.) runs on iPhone & iPad.

BUY NOW

 
The Rebus Show – Price : $1.99 – Publisher –

Norman Basham

. ( A stunning picture puzzle game show were every puzzle is a little Aha! Includes Dazzling New iPad support. Remember the puzzle bottle caps and the old TV show? Well get prepared for the best rebus game on the planet, bar none and totally re-invented. The Rebus Show is made up of images that phonetically convey words and will challenge your skills – remarkably fun.) runs on iPhone & iPad.

BUY NOW

 
Gunman Clive – Price : $1.99 – Publisher –

Bertil Horberg

(In the year of 18XX, the west is overrun by thugs and outlaws. A group of bandits have kidnapped Mayor Johnsons daughter and are spreading havok across the land. Only Gunman Clive can bring order to the west and save the girl! Jump and shoot your way across 16 diverse and challenging levels and fight massive bosses. Gunman Clive is an old-school sidescrolling platform game set in the old west with full 3D graphics and a unique artstyle. ) runs on iPhone & iPad.

BUY NOW

 
CitiRacing – Price : $2.99 – Publisher –

Humble Gaming

. (Do you love cars? Do you enjoy driving? Have you ever thought of drifting in town, driving between buildings and racing on the open road? Unlike typical racing games, in CitiRacing not only will you be able to race with your opponents, you will also explore what it's like driving in cities which draw inspiration from 7 countries; a completely different sensation!) runs on iPad & iPhone.

BUY NOW
There you have it folks, these games should keep you busy for quite some time. I'll be back next week for another dose of iOS goodness, in the meantime if anyone would also like to suggest their own suggestions, please feel free to share them in the comments section below.
Remember kids,
Play Hard Or Don't Play At All!
Game Play Videos coming soon.