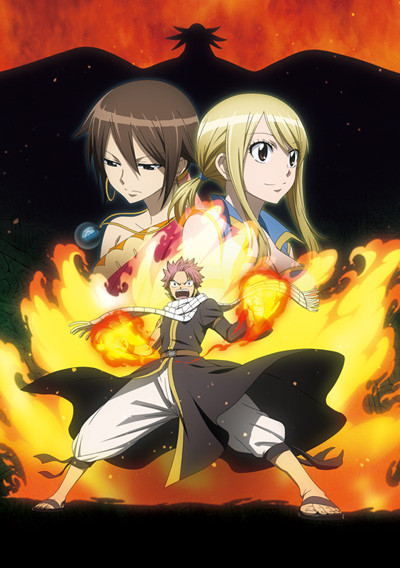 Last year it was announced that the popular shonen anime series Fairy Tail, would be getting it's very first theatrical release in 2012. Now more than 6 months on a teaser trailer and poster for the film have been revealed.
The poster which can be seen to the right (click to enlarge) features Natsu Dragneel, Lucy Heartfilia and a new original character and what appears to be an ominous silhouette of the films villain in the background. The trailer can be seen below  and features some very teasing imagery, by that I mean about 4 seconds of actual footage, but hey it's got Lucy screaming 'Help me Natsu' and Natsu doing that, I guess.
It certainly is shaping up to be a thrilling first movie outing for Fairy Tail. The film will open in cinemas across Japan on the 18th of August, 2012. As always, let us know what you think in the comments section below.