Have a 3DS, but have no nice storage options at the moment? Well, hold on to your wallets as Bluemouth are soon to have you covered with their newly announced line of Super Mario 3DS cases and accessories, which are due out this May and show some love to Mario, Peach, and Yoshi.
Details for each set of merch can be seen below:

Super Mario Mini Sling Bag – $29.95
For Nintendo 3DS, DSi, DS Lite, DSiXL
Collectible sling bag features 2 compartments with interior pockets
Holds any DS system and up to 18 Game Cards, 2 Replacement Styluses, 2 Full Size Styluses, cords and more
Classic Super Mario themed interior with nostalgic storage pipes and bricks
Comes in Mario, Yoshi & Peach

Universal Super Mario Starter Kit– $24.95
For Nintendo 3DS, DSi, DS Lite, DSiXLIncludes:
two-sided system storage soft case
2 Power-Up Styluses
Cleaning Cloth
Touch-Screen Protectors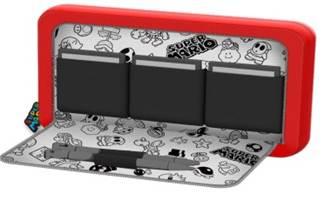 Not a bad bunch of swag. You can check out the official listings for each item at Bluemouth's official website (Sling Bag and Starter Kit), and now officially keep an eye out for this lot as everything you see above will be hitting store shelves soon.