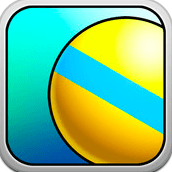 Ball on a Wall, a previously iPad exclusive app, has been redesigned for the smaller screens of the iPhone and iTouch. It's not often that apps are re-designed for the smaller screens, usually going the other way around with HD apps to make them all spiffy for the larger iPad screens, but given the precise and picky nature of this app it's no surprise that adapting it for smaller screens is more effort.
Ball on a Wall Pocket challenges your wits and reactions by making you tap blocks in the wall to form platforms to guide a constantly moving ball to collect things and avoid hazards. Because who needs an avatar when you have a ball instead?
Not only does the Pocket edition include the redesign for the small screens, but also has 50 all new levels. So what are you waiting for? Boasting unique gameplay, 50 levels across ten worlds, five challenges per level, and dynamic pickup placement, which ensures high replay value, Ball on a Wall is definitely a great app to grab.
Check out the trailer for the app below!
Ball on a Wall Pocket is available on April 5, 2012 for $0.99. The original iPad Ball on a Wall app is available NOW for $0.99 – Grab it HERE