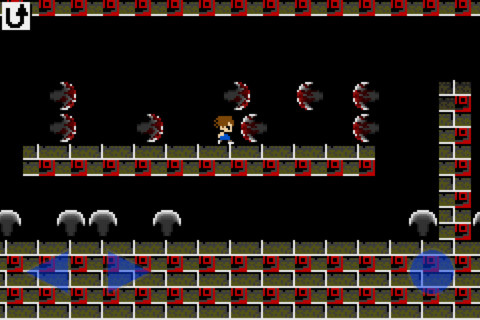 Square Enix today have released 774 Deaths on the iOS.  What's this 774 DEATHS all about you say?  Well it might look all cute and cuddly with its 8bit graphics and all on the outside but on the inside 774 Deaths is a murderously difficult action platformer that is certain to chew up and spit out even the world's best gamers.
Inside, you'll find 9 unique rooms and 33 mysterious doors, with each stage more demanding than the previous. Are you ready to put your life on the line in one of the most grueling games ever made?
Features
– Over 74 hours of gameplay!
– Over 774 ways to die!
– Share your deaths with the world via Twitter!
– Game Center functionality (game progress)
If you think you have what it takes and can man up to the challenge that 774 DEATHS can throw your way and prove to yourself that you are indeed HARDCORE, then click on the buy now link below and spend that 99c (Currently 774 Deaths is on special at 75% off till the 9th of April then it will go back to its original price of $3.99).  As from what I've seen so far, this is certainly one difficult and challenging game that could potentially make you pull your hair out with one hand and throw your iOS device up against the wall with the other. But hey since when did this stop all you hardcore gamers out there!
BUY NOW IF YOU DARE  <INSERT EVIL LAUGH HERE>