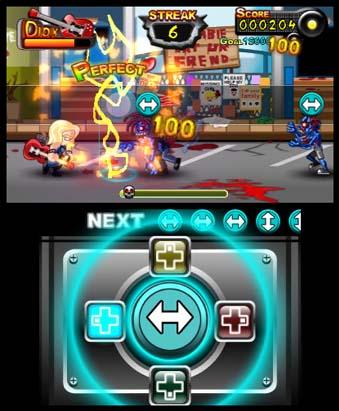 With last week's addition of Game Gear titles to the eShop, it's really no real surprise that this is going to be a slow week on the Nintendo Download scene, but there still are a couple releases to talk about this week. The most prominent is Zombie Slayer Diox, which is quite an interesting mix of genres. In this rhythm-action side-scroller, players take control of Diox, a Samurai Guitarist that battles zombies. Yes, you heard that right, and yes, the concept is truly amazing, but this dandy also features an original soundtrack and hand drawn artwork that is sure to please anyone with a working heart. You can get Zombie Slayer Diox for $5.99, exclusively on the 3DS eShop.
On the DSiWare, 1st Class Poker & BlackJack lets players enjoy both games with cheeky, animated characters for $4.99 while on the WiiWare front, Carmen Sandiego is back yet again with another math game.
Those who have Swapnote installed can also expect a message from Nintendo's spokesdog, Uggie, as he has sent all 3DS owners a brief hello to further promote Nintendogs+Cats.
Other than a new 3D music video, that pretty much sums up this week on the Nitnendo download scene, but fret not if nothing interests you (SAMURAI ZOMBIE SLAYER should be enough, honestly), as I'm sure we will see Kid Icarus' 3D classic debut within the coming weeks due to the release of Uprising.