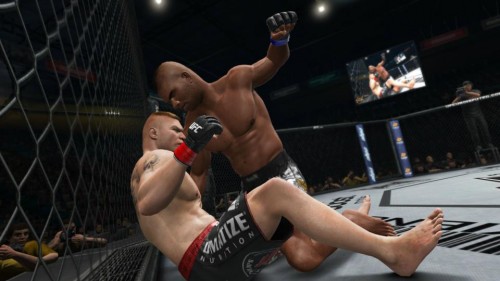 THQ have announced the availability of downloadable content for UFC Undisputed 3. There will be two packs available for download, the Fight of the Night Pack and the Ultimate Upsets collection.
The Fight of the Night Pack will feature UFC fighters Joe Lauzon, Rory MacDonald, Charles Oliveira and Sam Stout, in addition to former UFC fighter Anthony Johnson. This pack will be available for 400 Microsoft points, and $4.99 (USD) for PlayStation 3.
The Ultimate Upsets collection will enable access to four classic upsets that occurred in UFC History. These are the UFC 92 Frank Mir vs. Antonio Nogueira bout, the UFC 112 Frankie Edgar vs. BJ Penn clash, UFC 116 Chris Leben vs. Yoshihiro Akiyama bout and finally the UFC 121 Cain Velasquez vs. Brock Lesnar match. The Ultimate Upsets collection will cost the same as the Fight of the Night Pack respectively.
Both DLC packs will be available for Xbox 360 through the Xbox Live Marketplace on the 14th of March, and for the PS3 they will be available on March 20.
If you sign up for the UFC Undisputed 3 Season Pass Program for a price of 1360 Microsoft Points or $16.99 for the PS3, you can receive these two packs in addition to the UFC Heavyweight Championship contender Alistair Overeem, as well as the International Pack and all unlockables.
Check out the trailer for the Fight of the Night Pack down below!