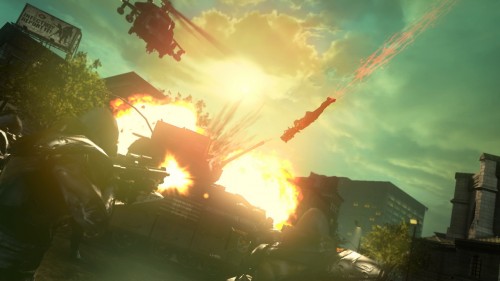 If helicopters were not enough for your vehicle appetite, then get ready for some more vehicles for Prototype 2. Coming in this time around is the armoured personnel carrier (or APC for short). Just like the choppers, you can ride it or you can destroy it with one of Heller's shapshifting powers. The APC doesn't lack any firepower either, with a rapid fire weapon as its primary and the TOW system as its secondary.
Here is some more info on the APC and how you can destroy it:
The APC is a TOW launching, personnel carrier that you can take for a ride to soak in all the rapid fire enjoyment its primary weapon provides. Ripping off its secondary weapon–the heat seeking TOW Launcher–gives you mobile use of an accurate weapon that will leave your targets with little hope for survival. This vehicle goes nicely with a Hammerfist Finisher. Rip the turret off that smug APC to smash it into a fiery mess with its own amputated limb.
Look out for Prototype 2 on the Playstation 3, Xbox 360 and PC on April 24. In the meantime, enjoy a couple of screenshots of the APC below.