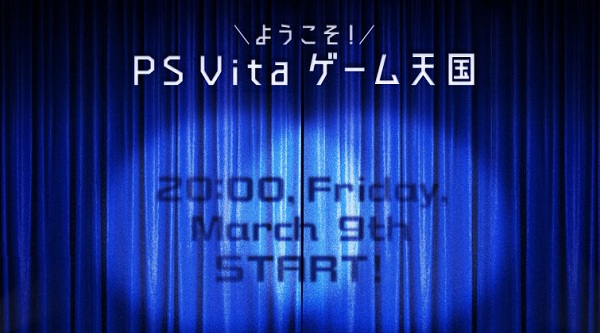 Tonight, at 8pm Tokyo time (10pm AEDT), Sony Computer Entertainment Japan will be hosting a web broadcast called 'Playstation Vita Game Heaven." Here, Sony Computer Entertainment will be announcing new games for the Playstation Vita as well as provide update on yet to be released games. The webcast will focus on the Japanese market, so the probability of any new Western oriented games will be low. For those who want to watch it, here is the official site.
A few game creators have been announced to appear on the broadcast. These include:
Satoshi Sakai (Phantasy Star series)
Katsura Hashino (Persona series)
Toshihiro Kondo, Ken Nakanko (from Falcom, developers of  Legend of Heroes)
Takanobu Terada (Super Robot Wars series)
This blog will start at 9:55pm AEDT. This will be an old fashion live blog, which means that you will have to hit F5 for updates. Don't worry, I'll make sure that you won't have to spam the button.
The live blog follows…
9:52 – Hello and welcome to Capsule Computer's live blog on the "Playstation Vita Game Heaven" webcast. It will be interesting to see what is announced tonight. Should be a good show.
9:56 – If you want to make any predictions or comment during the blog, you can below. It will be interesting to hear what you think will be revealed tonight.
10.07 – So, there seems to be an intro video showcasing what "Game Heaven" will show. Phantasy Star, Persona 4, Super Robot Taisen, Gundam, Legend of Heroes and Metal Gear Solid will be shown, alongside their respective designers.
10:11 – It looks like "Game Heaven" may be a series of video posted on the official Youtube channel (which is right here). So sit tight as I go through the different announcements.
UPDATE: you may notice that I do not have the time next to the game announcements. That is because of the nature of the announcements being a series of video rather than one streamline webcast like Nintendo Direct. So, on with the announcements.
UPDATE 2: I will post the videos in a separate article after the completion of this article.
UPDATE 3: The article showcasing all of the videos is now available to read. Click here to see that article.
First up, we get to visit the offices of Sega as they reveal that Phantasy Star Online 2 will be heading to the Playstation Vita. Vita players will get to team up with the PC players as they will be on the same server. You can also use the same character on both versions. Neat.
Next, Namco Bandai reveals that they will be bringing a Super Robot Taisen game to the Vita. There is gameplay footage in the video (this turns out to be the PSP game Super Robot Taisen Z2 running on the Vita. Apologies).
Our third video will be looking at Metal Gear Solid HD Collection, introduced by Hideo Kojima. Of course, there is talk of the Transfarring feature, which is done over Wi-Fi. The save files are saved on cloud storage, so you can play wherever you are. There is gameplay footage and a release date: June 27.
Now it is time for some Persona 4: The Golden, due out June 14. Katsura Hashino, the producer of the game, shows off some of the gameplay. He also talks about the game's development. No real news from Atlus, more behind-the -scenes stuff. Still, worth watching for gameplay and some artwork.
The Legend of Heroes: Zero no Keisei Evolution is the next video. Some of the mini-games are being talked about, as well as the amount of voice work done with the game. There is also some game footage. Also being reported is the fact that Evolution was meant to be a PSP game, but UMD space was a factor for the project to be moved to the Vita. Interesting.
Gundam is next from Namco Bandai, who are now working on two PS Vita games. It will be titled Gundam SEED: Battle Destiny. The representatives are very happy with the addition of the dual sticks, as is everyone else. They also have a release date: June 7. Gameplay is also shown.
The next video is Keiji Inafune teasing a title for the Playstation Vita. He did slip that he was working on a Vita title at the GDC, so this video confirms it. No specifics were revealed, however.
The second last video is all about the UMD Passport Program. It shows how to use the program, developers who are supporting it and a new addition of games and they are major ones. It also gives info on the 1,000 yen PSN voucher Sony is giving away. Here are the notable games that will be added to the UMD Passport Program:

Monster Hunter Portable 3rd
Monster Hunter Portable 2nd G
Last Ranker
Rockman Dash 2
Metal Gear Solid Peace Walker
Tokimeki Memorial 4
Tactics Ogre
Final Fantasy Tactics
Final Fantasy
Final Fantasy IV Complete Collection
Final Fantasy II
Dissidia Final Fantasy
Dissidia Final Fantasy 012
3rd Birthday
Final Fantasy Type-0
Ys I & II Chronicle
Ys 7
Legend of Heroes Sora no Kiseki
Little Battler eXperience Boost

The last video reveals a project called Project Discovery, a collaborative project between Kadokawa Games and Sony. Watching the trailer, it could involve Vita owners and content creation. It will be coming soon.
So, that's it for Playstation Vita Game Heaven. I hope you enjoyed this article bringing news of various Playstation Vita projects that are underway or near completion over in the Land of the Rising Sun. Some may be disappointed that there was no mention of a certain portable giant of a game. I'm sure it will be out soon.