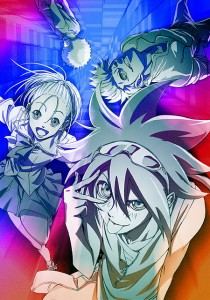 The first season finale of Phi Brain: Puzzle of God was scheduled to air on the 26th of March. It has now been delayed a week for reasons that are unknown. The season finale will instead air a week later on the 2nd of April. Coincidentally the second season of Phi Brain: Puzzle of God is scheduled to premiere a week after this finale April 9th.
Phi Brain premiered back in the Fall 2011 season and last month was confirmed for a second season. The series revolves around Daimon Kaito as he takes on the evil organisation known as P.O.G. by completing a series of increasingly deadlier puzzles. In the world of Phi Brain, puzzles have become the biggest craze amongst Youths, however a darker history of puzzles is beneath the surface of this craze.
So there you have it Phi Brainiacs, if you haven't yet caught up on Phi Brain, you've got another week to do so. If you have caught up however, go do some Sudoku or something you puzzle idiots!
Source: Otaku News