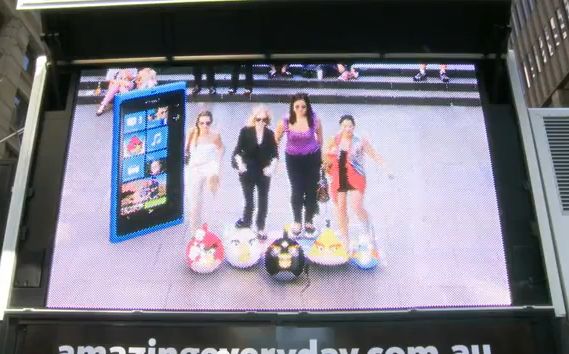 Using the world famous Angry Birds, Nokia have created a first, by using augmented reality to allow people to play in their own interactive game on a massive screen alongside our favourite destructive avian friends. Additionally, members of the public got to dance off in a virtual environment against Aussie pop star Timomatic, who popped out from the Lumia screen to accept the challenge, testing players with his signature moves. The event was part of a campaign to launch the new Lumia series in Australia and the technology was based on a mat which was powered by Microsofts Kinect and touch sensors which were activated by participants. Players had to choose whether to play Angry Birds, dance off against Timomatic or pet a lost Kangaroo on his way home to Uluru.
Nokia's head of marketing, Jolaine Boyd, said, "Nokia Lumia is a completely new proposition from Nokia and getting people to experience and judge the phone for themselves is key. "What we love about this stunt is that it allows people to experience some of the great features of the phone in a new and exciting way. Judging by people's reactions, they were amazed and impressed by what they experienced today," she said.
The basic premise behind AR is that is that it takes graphical images from a computer screen and has the ability to intgrate them into real-life scenarios thus somewhat confusing the user into what is real and what isnt during the experience.