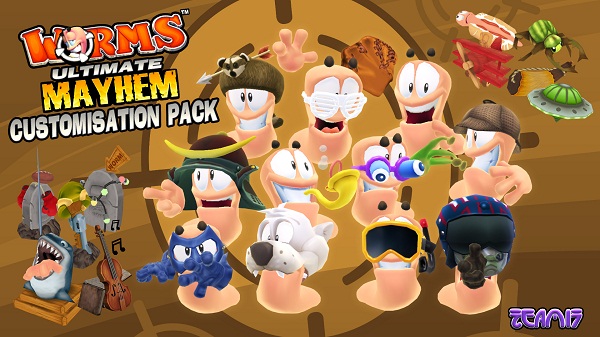 Are fedora-wearing worms with Scottish accents throwing explosive bananas at each other not zany enough for you? Well, Team 17 are adding a dash more zaniness to the recipe with a new customization pack for Worms: Ultimate Mayhem.
Available from Wednesday 28th March from Xbox Live Arcade, the new pack will cost 400MS Points, and contain 10 new headwear items (including a Feudal Warrior Helmet, Rapper Shades and a Polar Bear mask), 4 new pairs of gloves (including a baseball mitt and Alien Sucker Hands), 5 new gravestones (including a Fiddle and one decorated with Christmas lights), 5 new speechbanks (including Rock Star and Supervillain) and 5 new "payloads" for your customized weapons (including beetles and spaceships).
Also keep an ear to the ground next weekend, as Team 17 have stated a big announcement will take place on March 30th… If it's not an April Fool's prank, that is.