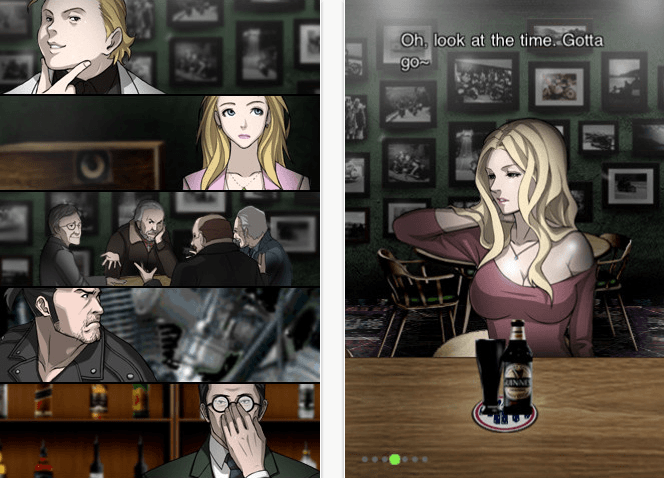 Here we are again, MasterAbbott is back for this week's iOS Game Suggestions. If you missed out on last week's suggestions, click on the links below and check what cool games you should be picking up for your iOS along with the introduction and disclaimer on how my suggestions work, as I'm not going through the same old intro every week. (suggestions 1 has the disclaimer)
MasterAbbott's iOS Game Suggestions
What I've also introduced is video game play footage (if it's possible) on some of the iOS games I've suggested, you can check this out at the bottom of the article. Currently video game play footage for this week's suggestions we have Mission Sirius, check back in a few days there will be some more added. Also if you jump into previous suggestions there are a few videos to check out as well.
Once again it's been a great week on iTunes, so many amazing games were released, this week I've suggested well over my normal amount with a total of 26 great quality titles. As always for this week's suggestions are all new titles that you should also take a look at to spend your hard earned iTunes cash / time on. This week I've focused an both the $0.99 over 99c titles there were some awesome and unique games released. These titles are all well worth taking a look at. Now lets get down to business shall we.
For The Cheapskates – FREE GAMES
Brasil Quest – Price : FREE – Publisher –

Monumenta Communicacao.

(Our main character, Yep, used to live in a very sad planet with two grumpy aliens – Stu and Bozzy. However, thanks to an unusual event, he had the chance to know a different place with something unfamiliar to him: Brazil. Now, you should guide him to a range of Brazilian cities capturing orbs and making him happier. But be careful with obstacles left by villains who only think of ruining all the fun. Travel around the 12 host-cities of the 2014 World Cup and get to know more about a country filled with color and joy..

) runs on iPhone & iPad.

GET IT NOW FOR FREE

The Death Zone – Price : FREE – Publisher –

Thunderbull Entertainment.

(Gold value plummets. Wars and riots start all around the world. In an attempt to stabilize the situation, USA chose to enlarge their gold reserves by any means possible. Someone thought up the brilliant idea to use the gold found in the Aztec ruins. Little did they know, it was cursed. A great plague erupted in a small coastal city, the dead rising to serve some evil being. After many unsuccesful attempts to infilitrate the city, they have hired you, the last descendant of the Aztecs, to go in there and deal with whatever lurked inside.) on iPad. 

GET IT NOW FOR FREE

Artic – Price : FREE – Publisher –

Gekko.

(Jump riht back into the past to help the penguin Artic solve new star puzzles whilst avoiding the enemies that are trying to trap him in their world! Features Game Center high scores and ranking, item mall to buy extra lives, star score bonuses, bonus potions, 4 levels, each with 3 stages total of 16 levels, universal online chat, 3 options for controller type.

) runs on iPad.

GET IT NOW FOR FREE

 
Magic Tree – Price : FREE – Publisher –

Com2uS.

(Dreams and magic tales all in one beautiful fantasy world… 'Once Upon a Time' exists, in the all-new 3D social game, Magic Tree!! Imagine your own land with more than just one typical harvest… Magical trees filled with enchantments: sweet candy trees, sparkling jewel trees, cottony cloud trees… Nothing's impossible in this surreal land of unusual wonders! Experience a three-dimensional fantasy that will blow your mind away in Magic Tree! ) runs on both iPhone & iPad.

GET IT NOW FOR FREE

 
Beardadise 2 – Price : FREE – Publisher –

Mooff Games

.

(Macdoogle's farm is visited by his cousin who has a mysterious illness. At night there are strange bear noises and shadows, in the morning there are squashed cabbages and juice everywhere! …… NOH!!! The newly energized 'Tap & Shuffle' block puzzle game that will test your ability to organize in the smartest way possible! With one fingertip and a very intuitive control system you can shuffle the cute bears, birds & fruits around. Simply match them into groups of three or more to score huge points!) runs on both iPhone & iPad.

GET IT NOW FOR FREE
For The Bargain Hunters – 99c Games
 
Adventure Bar Story – Price : $0.99 – Publisher –

Rideon Japan Inc.

(Kamerina's Bar is a typical tavern in the world of an RPG where adventurers gather to share information. YOU are the owner. Gustav, the rich neighborhood restaurant owner, is trying to buyout your tavern. Gustav is a powerful man, if you don't do anything, he will drive you out of business and force you to sell the bar! Best way to defend the take over? WIN THE CROWD! Become the most popular bar in town, so even Gustav can't touch you! ) runs on iPhone & iPad.

BUY NOW

Tiny Jump – Price : $0.99 – Publisher –

Sotodo Technology.

(Simple and fun! Great adventure with a tap! Tiny Jump, a simple and fun game. Player control a character jumping between planets, collect items to win high score. Jump angle is important to win high score, and Combo is the key too. There is many characters in this game, each has a unique advantage, can help players to clear stage, and there is some more characters comming soon. This game has a cute cartoon graphic, wondful sound effect and music, and Easy control. But, If you want get a high score, you need lots of practise. ) runs on iPhone & iPad.

BUY NOW

Bitter Sam – Price : $0.99 – Publisher –

Moon Active.

(Sam's life is hanging by a thread… literally! Help him swing around obstacles and collect power-ups as he descends through each dangerous level, collecting crystals to unlock new worlds! Sam was already down in the dumps before he got kidnapped. Now he's in the clutches of a scientist working (allegedly) to save the world who needs Sam to explore the depths below his lab. Each crystal that Sam collects brings him closer to freedom and a shot at a brighter future, but he needs your help to survive!.) runs on iPhone & iPad.

BUY NOW

CHECK OUT OUR REVIEW FOR BITTER SAM HERE

Kung Fu Rabbit – Price : $0.99 – Publisher –

Bulkypix.

(Life in the temple of rabbits hangs by a thread. Universal Evil has once again run rampant, and kidnapped all of your students. Only you barely managed to escape the raid. They left you alive… They'll regret it!
Use your agility and combat abilities to save all of your students! Jump from roof to roof, slide gracefully along walls, sneak up on your enemies and rip them to shreds!
Detailed graphics, humor, hours of gameplay and intuitive controls. Each of the 70 levels requires logic, precision, agility and lots of saber rattling. The game also has lots of trophies to win, babies to save, carrots to eat, and a Universal Evil to expunge.) runs on iPhone & iPad.

BUY NOW

CHECK OUT OUR REVIEW FOR KUNG FU RABBIT HERE

Little Ghost – Price : $0.99 – Publisher –

In Images.

(Little Ghost is a fancy arcade game. As a Ghost you have to collect all of diamonds and the Magic Keys. Dangerous places are waiting for you. Deep Dungeons, Mistery Castle and Curtains are full of obstacles and enemies, well-armed knights and mighty Magic Keys Keepers. Defeat them!  ) runs on iPhone & iPad.

BUY NOW

MotoHeroz – Price : $0.99 – Publisher –

UBISOFT.

(MotoHeroz takes the fun, fast gameplay of a Trials style game, adds it to a frantic rally race, and delivers a fresh new kind of side-scrolling, platform racing game. Players race, chase, and rally their way through a brightly colored world, competing against their friends for the fastest times, and hunting for secrets and coins.) runs on iPhone & iPad.

BUY NOW

Action Driver – Price : $0.99 – Publisher –

Donut Games.

(Take a spin on the chaotic roads in ACTION DRIVER for a real thrill ride. Collect cash, battle grenade-dropping gangsters in limos, and ZIG-ZAG DRIVE the busy roads. Just in it for the speed? Then you better put the pedal to the metal and prepare for some reckless RAMP JUMPING fun!) runs on iPhone & iPad.

BUY NOW

 
Mafiatown – Price : $0.99 – Publisher – Ringzero Game Studio

.

(The Badfellas are ruling the streets of Mafiatown! The Shopkeepers turn to you for help and ask you to be their Protector. Rush to the shops, shoot the badfellas, collect the cash, upgrade your guns, speed up the pace, clear vendettas, protect more shops and become a hero for the townspeople! ) runs on iPad & iPhone.

BUY NOW

 
Harry The Fairy – Price : $0.99 – Publisher –

Chillingo

.

(He's green…but not so mean.
Meet Harry the Fairy, the loveably sprite on a mission to rescue his fairy friends. Follow him on an adventure through mystical and dangerous underground caverns as he avoids many dangers and eventually saves the day! IT AIN'T EASY BEING GREEN -Harry didn't ask to be a hero but now he's got no choice, his friends have been kidnapped and he's the only one who can get them back. ) runs on iPad & iPhone.

BUY NOW

 
Islands Of Diamonds – Price : $0.99 – Publisher – 

Happy Monitor

. (Are you ready for some coconut-rolling physics-puzzling platforming fun? It's not easy being the only perfectly round coconut on the shore, so Seamus O'Nut has set off in search of fame and fortune in the hope of finding acceptance. Shipwrecked, Seamus washes up on the shore of a mysterious island. Treasures are there for the taking but they'll Seamus will need your steady hand to plunder. Thankfully being perfectly round will come in to play. Navigate 30 devilishly unique islands of puzzles, traps and physics-puzzling mayhem and locate the cunningly hidden diamonds before the ever-ticking clock runs out.) runs on both iPhone & iPad.

BUY NOW

 
Minotaur Maze – Price : $0.99 – Publisher – 

TSS Studios

. (The bellow of an angry Minotaur echoes through the underground labyrinth! Inspired by classic role-playing dungeon crawls, "Minotaur Maze" is an old-school roguelike RPG with simple controls and fast-paced random gameplay that promotes replayability. The mechanics in "Minotaur Maze" are simple yet familiar, and let the player pick up and play the game instead of managing a set of statistics. Be careful, though — the monsters in the Maze pull no punches, and victory is far from ensured.) runs on both iPhone & iPad.

BUY NOW

 
Block Bear – Price : $0.99 – Publisher – 

Alejandro Garcia

. (Block Bear is smart physics based puzzle action game. The objective is to help Joe the blocky bear reach his precious goal by destroying all types of blocks crates! Magic blocks! TNT! Bubbles! And more! With 5 engaging stories, each one featuring awesome and fantastic gameplay twists! But watch out; don't let him touch the ground neither fall or it will be game over!nGood timing and smart thinking are the key for completing your goal, a must have indeed!) runs on both iPhone & iPad.

BUY NOW

 
Air Jump – Price : $0.99 – Publisher – 

Avallon Alliance Ltd

. (Do you want to feel the true Adventure? Deep and dangerous Jungle, furious beasts and bottomless abyss – are you afraid or you want to challenge it? Listen to guide of Zen Bao, trade with kindly Zoye and mysterious Unknown for unbelievable items, fight along with Nattus against wild creatures. Do you want to start it now? A lot of unique items with different abilities will help you to go further and create our own great adventurer!) runs on both iPhone & iPad.

BUY NOW

CHECK OUT OUR REVIEW FOR AIR JUMP HERE
For The Millionaires – All games over $0.99
 

MASTERABBOTT'S Over 99c PICK OF THE WEEK

Bar Oasis – Price : $1.99 (Publisher – Corners Studio (The MOST REALISTIC COCKTAIL APP to date. GAME FEATURES: Drink recipes at your fingertips, literally, to view and make. Around 100 drink recipes at your disposal. A text adventure STORY MODE and a cocktail simulator MAKE DRINKS mode in one. Become the bartender at BAR OASIS. Carry your own bar with you anywhere you go, and make cool cocktails and interact with delightful characters.) – runs on iPhone & iPad. BUY NOW

 

Clippox Exodus – Price : $2.99 (Publisher – Gametopia Games (Clippox Exodus is a Action Adventure game, in a 2D Universe of handmade illustrations, with fantasy aesthetics. The Clippox lived inside a big sacred tree, protected from insects and other jungle dangers, but one night the rays of a relentless storm, destroyed the sacred tree and half of the Clippox. It is then, when the leader, the Great Shaman decides to leave searching for the Promised Land in order to find a new home..) – runs on iPad & iPhone. BUY NOW

 
Mission Sirius HD – Price : $4.49 – Publisher –

OURPALM.

( Welcome to Planet Momoko, a prison full of tests and illusions! Mission Sirius a FPS (First-Person Shooter) game powered by Unreal Engine 3 that gets your blood pumping! Roger A prisoner? A lone ranger? Unveil the secrets of Momoko and you will be fighting an army alone. All are but tests! Video Camera Following Mode makes it easier to operate without a mouse or a keyboard. There are only two operations: aim and shoot, and reload. The game shows a number of extraordinary scenes: in the open air of a planet, the sky, the ground, the underground, the military base, enemies attacking from all directions like flood. You will operate all kinds of weapons ranging from high-focusing laser guns and fast-shooting photonic submachine guns to mass-destructive heavy machine guns. ) runs on iPad.

BUY NOW

 
Chaos Rings II – Price : $17.99 – Publisher –

Square-Enix.

( Would you sacrifice the one you love to save the world? The newest addition to the globally acclaimed RPG series Chaos Rings has arrived! Explore a captivating new adventure and brand-new game system in this latest installation!mTime is stagnant; the Destroyer has forced the world to the brink of destruction. In this desolate era, Darwin, the chosen one, discovers his fate; he must slaughter the sacrifices and offer their souls, all to salvage the world. Five were chosen to be sacrificed. Of the five is a girl, Marie—a dear childhood friend.) runs on iPhone & iPad.

BUY NOW

 
Azkend 2 – The World Beneath – Price : $2.99 – Publisher –

10tons Ltd.

(Azkend 2 HD: The World Beneath is finally here! Step aboard a fantastic adventure and discover some of the most astonishing worlds ever imagined. While traveling from Liverpool to New York your ship was pulled down into a massive maelstrom and you woke up in a place that may have never been gazed upon by the eyes of men. From now on your goal is to ascend from the bowels of the earth and return to civilization..) runs on iPhone & iPad.

BUY NOW

CHECK OUT REVIEW FOR AZKEND 2 HERE

 
Rune Raiders – Price : $1.99 – Publisher –

Retro64.

( Move your guys, then watch them COME ALIVE AND FIGHT in this casual adventure! Rune Raiders takes SECONDS TO LEARN, but provides hours of fun for the whole family. -Ultra simple game play. No complicated tutorials or reading! 12 heroes, each with 6 levels of upgrades! 15 unique enemies! Hysterical quips that will make you smile! Fun, addictive game play that will keep you coming back for more. Story mode and survival mode. Game Center support with achievements and leader boards.) runs on iPhone & iPad.

BUY NOW

 
DoDonPachi Resurrection – Price : $7.99 – Publisher –

Cave.

( The Legendary shooter, now for iPhone and iPod touch! Two fully-featured game modes: Smartphone Mode, an exclusive adaptation with touch controls tailored to the smartphone portable format, and Arcade Mode, a port of the arcade shooter classic. Practice Mode included to help boost your score! Beginner and veteran shooters, brush up to beat your friends! Exclusive BGM added to Smartphone Mode! Weave through the storms of bullets that magnificently fill up the screen! Plus much much more. ) runs on iPad.

BUY NOW

 
Raiders Of The Lost Aardvark – Price : $1.99 – Publisher –

National Wildlife Federation.

( Join Ranger Rick the raccoon on a wild ride through Africa in this thrilling detective game that tests your sleuthing skills. A rare mummified aardvark has been unearthed in sub-Saharan Africa, rocking the archaeological world. The archaeologist who discovered it, Jack Snare, believes that the aardvark holds the key to unlocking some of the world's greatest natural mysteries. ) runs on iPad & iPhone.

BUY NOW
There you have it folks, these games should keep you busy for quite some time. I'll be back next week for another dose of iOS goodness, in the meantime if anyone would also like to suggest their own suggestions, please feel free to share them in the comments section below, or join the discussion in the forums.
Check out the link below
Remember kids,
Play Hard Or Don't Play At All!
Game Play Videos.
Mission Sirius
[pro-player width='530′ height='253′ type='video']http://www.youtube.com/watch?v=waYUcqJu0Wg[/pro-player]