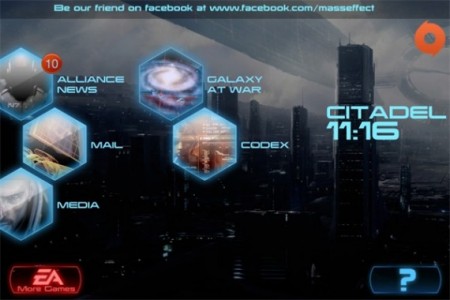 Mass Effect has created one of the deepest universes in contemporary video games, and now, thanks to some handy iOS apps, you can fit the world of Mass Effect in your pocket.
First off came Mass Effect Infiltrator, whose campaign could provide direct benefits to your Galactic Readiness in Mass Effect 3. Now EA have announced that those of you who own the new iPad are in for a spectacular visual treat, as the iOS app has been optimized for the higher processing power and resolution of Apple's new device. That means that you get to see an already pretty game in, well, even prettier.
Beyond that, EA have also recently released a companion app for Mass Effect 3. Mass Effect Datapad is a completely free application in which players can receive text messages from in-game characters as they complete certain missions and conversations in Mass Effect 3. On top of that, it comes with the fully featured (including the audio bits) Codex from the Mass Effect games, as well as a minigame through which you can increase your Galactic Readiness. Be sure to check this one out! What can you lose? It's free.
What do you think of these iOS tie ins? Is taking the game world with you something you wish more franchises would do? Sound off below!