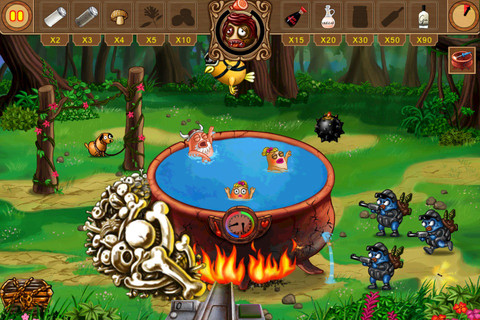 Ever wanted to cook and eat a human but was way too scared of the law? How about wanting to eat and cook video game characters? Well now is your chance, with the released update of Cannibal Cookout, you can do just that. For free. On the iOS.
Cannibal Cookout gives a whole new meaning to the term "pressure cooker". You will be tasked with cooking multiple lively recipes while you work your way up the cooking ranks. Sounds easy right? Along your way you will have to fend off an array of pestering hurdles ranging from sneaky birds and bolts of lightning to UFOs and army tanks.
Players will have to defend their couldron of death from incoming pests and rodents, hellbent on stealing your precious meal of men. Even more hilariously, players will also have to defend their meal from armies of UFOs and soldiers, making this an entertainingly silly romp.
Be sure to check out the title on the App Store.