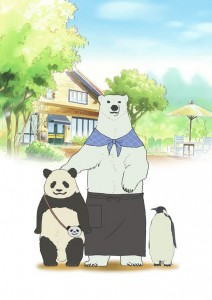 Studio Pierrot recently announced they are ending production on the Bleach anime series. In it's wake they have taken on multiple new anime projects, such as Polar Bear Cafe an adaptation of Aloha Higa's popular gag manga of the same name.
In anticipation of Polar Bear Cafe's Spring 2012 premiere on the 5th of April, Studio Pierrot and TV Tokyo (the station that will air Polar Bear Cafe) have revealed some new information on the anime series. The first of which is a new preview poster art which can be seen to the left. The poster shows off the series primary cast (click to enlarge).
Also revealed is that the following voice actors have been cast in the series:
Takahiro Sakurai will play the Polar Bear
Jun Fukuyama will play the Panda Bear
Hiroshi Kamiya will play the Penguin
What do you think of Polar Bear Cafe? Does it tickle your furry fantasies? Let us know in the shoutbox and comments section.