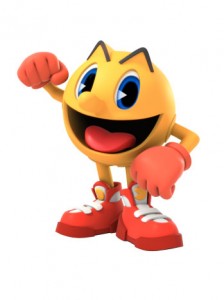 Namco Bandai Games, Arad Productions and 41 Entertainment have announced today that they have granted the US television rights to Disney for a new animated action comedy series titled (for the moment) Pac-Man: The Adventure Begins, and is slated for Fall 2013. Chances are that title will change, at least to simply 'The Adventure', since an adventure can only begin for so long.
Based on that cute little circle man, the series is created in stereoscopic 3D, executive produced by Avi Arad (Spider-Man, Iron Man, Hulk, Fantastic Four, and X-Men) and Rick Ungar (Biker Mice from Mars, X-Men Evolution and Legend of the Dragon).
Avi Arad has this to say about the possible Pac-Man show:
"I am very excited about producing PAC-MAN – The Adventure Begins, the 3D animated series, with Rick Ungar. PAC-MAN is one of the world's greatest icons. He is funny and adventurous and will bring his tone and abilities to this beautifully executed animated series. For more than 30 years, PAC-MAN has been a household name. Having this property on Disney XD is its rightful place to be."
Stay tuned for more information about the impending Pac-Man show as it comes! What do you guys think about this Pac-Man TV show news? Yay or nay?