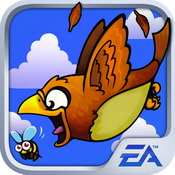 Fly With Me, created by EA's LA studio for iPhone, iPad, and iPod Touch, is now available on the AppStore. With a simple tap-to-flap mechanic, you'll be helping birds navigate through 45 levels in 3 unique settings. You'll need to dodge hazards and trees, while gobbling up bugs to keep up your strength.
You can in-app purchase, or unlock the Robot Bird, which is immune to bad stuff you may run into in your flights. Or buy the Kid Mode to make everything easier for the little ones, giving you infinite stamina and 30 exclusive levels to play through.
Check out our review, or buy the game now!