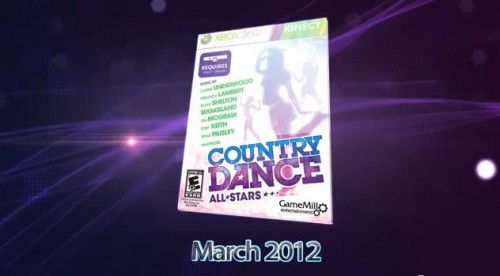 Not too long ago, GameMill Entertainment announced Country Dance All Stars, which will be launching exclusively for the Kinect. If you are a bit unfamiliar with the franchise that originally started on the Wii though, Country Dance All Stars lets players dance along with on-screen avatars to world-famous country tunes.
After just a short wait, GameMill have came forward with a full setlist for their upcoming boot-scooting title, with plenty more southern hits that aim to please.
The complete soundtrack is as follows:
Alan Jackson – "Good Time"
Ashton Shepherd – "Look It Up"
Billy Currington – "People Are Crazy"
Blake Shelton – "All About Tonight"
Brad Paisley – "Water"
Brooks & Dunn – "Boot Scootin' Boogie"
Carrie Underwood – "Cowboy Casanova"
Chad Brownlee – "Carried Away"
Chris Heers – "Dirt Rich"
Dierks Bentley – "What Was I Thinkin'"
Easton Corbin – "Roll With It"
Eric Church – "Hell On The Heart"
Gwyneth Paltrow – "Shake That Thing"
Hayley Mclean – "Good Time Bone"
Jake Owen – "Barefoot Blue Jean Night"
Johnny Cash – "Ring of Fire"
Josh Kelley – "Georgia Clay"
Josh Thompson – "Beer on the Table"
Josh Turner – "Why Don't We Just Dance"
Katie Armiger – "Best Song Ever"
Keith Urban – "Better Life"
Kellie Pickler – "Tough"
Lady Antebellum – "Lookin' For A Good Time"
Laura Bell Bundy – "Giddy On Up"
Little Big Town – "Little White Church"
Luke Bryan – "Country Girl (Shake It for Me)"
Miley Cyrus – "Hoedown Throwdown"
Miranda Lambert – "White Liar"
Rascal Flatts – "Life Is A Highway"
Sugarland – "Stuck Like Glue"
The Last Ride – "Take You Down"
Tim McGraw – "Felt Good on My Lips"
Trace Adkins – "Honky Tonk Badonkadonk"
Zac Brown Band – "Chicken Fried"
As you can see, with the likes of Miley Cyrus, Tim McGraw, and Blake Shelton, GameMill seemed to have spared no expense in booking talent, and fans of country music will now be able to celebrate on a whole new platform. You can expect Country Dance All Stars to hit the Kinect in March, but until then, fans can view the new trailer down below to see the game in full display.