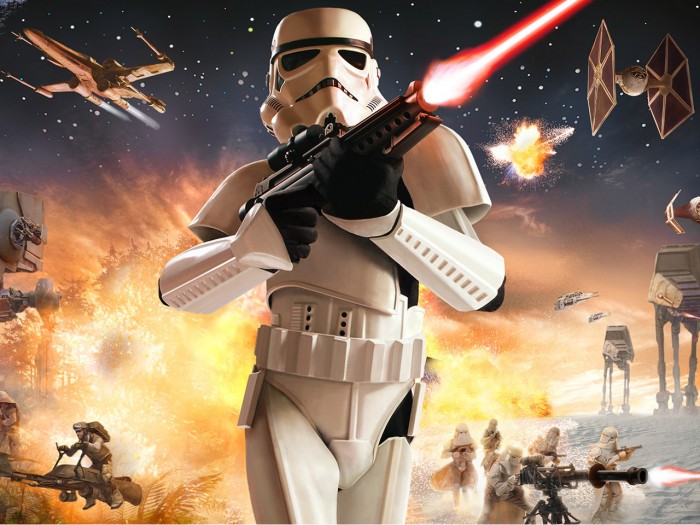 Gamers and Star Wars fanatics have long been clamoring for a sequel to Battlefront.  And when Battlefront 2 servers were shut down, the outcry became even louder.  However, despite numerous rumors, it appeared that the BF3 was dead.
Now, a new rumor has sprung up.  Job listings, tweets and resumes have recently popped up and seem to indicate that LucasArts may once again be trying to  revitalize their publishing business.
A recent tweet from Spark Unlimited indicated that they may be working on Battlefront 3:
Since we are working on a sequel for a well known sci-fi franchise, all aspects must remain secret.
Now, check out this job listing:
Spark is looking for a senior combat designer for a 3rd Person Action/Adventure sequel in a high-profile science fiction franchise currently greenlit for full production development for Xbox 360, PS3 and PC markets.
Also, there is a LinkedIn profile from a former senior dev at Spark Unlimited who spent time on an "unannounced third person sword fighting game (well known IP, Xbox 360, PS3)."
Could swords refer to lightsabers?
Another LinkedIn profile from a former member of  the studio mentions that, "I have been working for three years on an AAA third person shooter using Unreal Engine and Kynapse AI middleware."
And finally, we have  another tweet that the studio sent out last year:
"Publisher hasn't stated when or where the announcement will take place. The time and place could be close or far, far away."
Of course, this is all pretty circumstantial, and could refer to a great deal of Star Wars licensed games.  However, it leads one to hope that this will finally be the long awaited 3rd entry in the series.
Source: PlaystationLifestyle.net