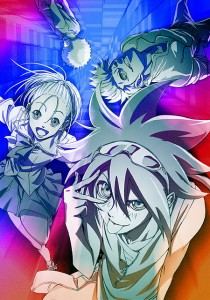 Arc System Works has today been confirmed to be developing the previously announced Phi Brain: Puzzle of God Playstation Portable game. Arc System Works are known for their two biggest franchises: BlazBlue and Guilty Gear.
The game itself is an adaptation of the popular puzzle battle anime series Phi Brain: Puzzle of God, which focuses on Daimon Kaito a genius who solves dangerous puzzles in order to free them from their evil creators and receive the prizes they hold. An evil organisation known as the P.O.G. want to use Kaito to unlock the Phi Brain by solving the Puzzle of God.
It is currently unknown as to what kind of game this will be. It can be assumed however that there will be puzzles to solve. The game is set to hit shelves across Japan at the end of May.