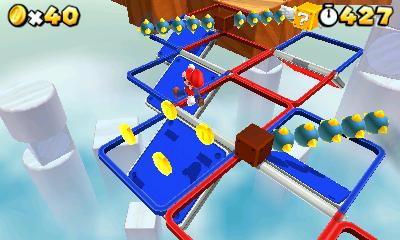 Last year, Super Mario 3D Land came out and turned the 3DS' sales upside-down, assisting in the increase of units sold by miles. Many 3DS owners who have already played through both 3D Land and Mario Kart 7 have one question on their mind though, with that being "what's next?". Yes, it is the age of demand, and Nintendo have learned this the hard way.
During a recent Q & A session, Iwata finally enlightened us with news on DLC, and why both Mario Kart and 3D Land could have a bright future ahead.
we anticipate that "Super Mario 3D Land" and "Mario Kart 7" will bring in a substantial profit in the next fiscal year and the year after that. On the other hand, we will be able to do various things in the field of digital business. Up until now, once consumers who had bought a game got tired of it, they would never play it and it would never draw public attention again. Even if the game had the sales potential to other new consumers, they rarely actually bought it because the consumers who already had bought it would never talk about it again and the game would be considered an old one. Having said that, what if we could provide add-on content through the network? As I referred to before, for example, this is the idea of supplying new stages to Super Mario users who want to play the game more but have completed the game and lost interest in the existing stages. This will not only give us new profits but will lengthen the life of a product, in that it will never be out of fashion and can keep attracting public attention as long as many people play it.
We all knew that Nintendo would eventually jump on the DLC train, but it appears that Iwata wants add-ons to be handled with finesse. If you think about it, Nintendo already offer full games as it is, and that's the way extra content should be handled. Give the consumer a full game, and have them pay for extras to keep interest high some time later, rather than locking away half the experience on release day. I'm sure we are still a while from seeing all of this take shape, but you have to admit that there is a lot of potential here, and it will be interesting to see if Nintendo stays on track with this type of plan in the future.