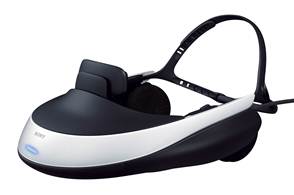 Sony Australia have announced that the Personal 3D Viewer (HMZT1, pictured above) will go on pre-sale on the  27th of January 2012 in Australia, which happens to be this Friday. The headset will be available at the recommended retail price of AU$899 and only available at Sony Centre stores or on Sony's official website. There is no word on the actual release date.
Here is some more info on the Personal 3D Viewer:
The HMZT1 is equipped with the newly developed 0.7-inch (diagonal 18.0mm) high definition (HD) OLED (1280 x 720) panel which has been developed through Sony's unique expertise in both OLED display and semiconductor silicon drive technologies. This technology provides high contrast, colour reproduction and fast response capabilities, videos are given added depth, allowing for smoother and higher-quality videos. Unlike other 3D image display methods, the HMZT1 adopts the 'dual panel 3D method' which consists of separate panels for the left and right eye. With its own dedicated 3D video for the left and right eyes, viewers are now able to enjoy high resolution 3D video that is natural, bright and extremely pure with no crosstalk.

The HMZT1 boasts a wide horizontal viewing angle of 45 degrees by incorporating an optical lens that suppresses unwanted aberration and distortion. This puts a cinema style virtual screen in front of the viewer's eyes, creating the equivalent of a 750-inch screen (virtual viewing distance 20m). The design of this device is such that it results in a feeling of deep immersion with any information unrelated to viewing being isolated. Light from below the HMZT1 can also be intercepted by using the accompanying light shield (shade plate), thereby further enhancing the feeling of being in a movie theatre for the viewer.

Viewers are also spoilt for choice when it comes to their audio needs with the HMZT1. Incorporating Sony's proprietary 5.1ch Virtual Surround Technology that was developed especially for headphones, the equivalent of a maximum 5.1ch multi-channel audio can be experienced adding to the effect of the viewer being virtually present in the cinema. With a choice of four different surround sound modes (standard, cinema, game and music) to suit any kind of content, there is a perfect surround mode available for any situation.

Compatible with a wide range of 3D products and 3D content production systems such as Sony's PlayStation 3 Gaming Console, Blu-ray Disk Players and VAIO notebooks, the new 3D viewing style provided by the HMZT1 will enable users to enjoy the realistic feeling of being in a theatre whilst relaxing on their living room sofa, further expanding Sony's 3D world.
Editors of the site, myself included, have actually encountered and tried out the Personal 3D Viewer. I have only praise for the technology. The 3D is much better than what is produced with 3DTV's and, considering it is a personal viewer, no TV is necessary, which means someone can play the Playstation 3 while someone else is watching TV in the same room. The only downside, once again, is price. If Sony wants this to be a hit, then the initial price needs to go down. However, seeing that it has a limited retail release, Sony is not banking on it.