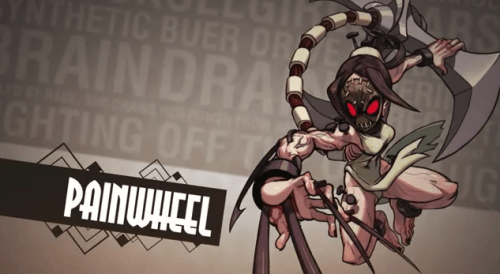 A new addition to the lineup of the much anticipated 2D beat-em-up Skullgirls has been announced in a new trailer!
Her name is Carol, but her foes know her by Painwheel. Kidnapped by Valentine, she was taken to the Anti-Skullgirls Lab Zero, where she was implanted with the Buer Drive, Gae Bolga parasites, and some experimental Skullgirl blood, creating the monster we see today.
Controlled by Zero Lab's own psychic director Brain Drain, she's a raging beast who draws on her pain and fury, while deep down the scared little girl strives to fight off the dark voices that would control her.
Her likes include gardening and walking on the beach at sunset, memories of times gone by, and the colour magenta. Her dislikes include Brain Drain, Lab Zero, and her monstrous and mutilated body.
Led by fighting game champion Mike "Mike Z" Zaimont, and artist Alex "0_8" ahad, Reverge Labs is set to release the title early 2012 on XBLA and PSN.