Having just released "Princess Case: A Royal Scoop", Anuman are in need of some macho in their release calendar, and what better way to up the testosterone than by re-releasing Barbarian – The Death Sword.
The Mortal Kombat like game was originally released in 1987 on multiple platforms including the Amiga and Commodore 64. In the US it was known as Barbarian – The Ultimate Warrior, and it attracted its fair share of controversy not for the high levels of violence, but for the page three girl on the cover…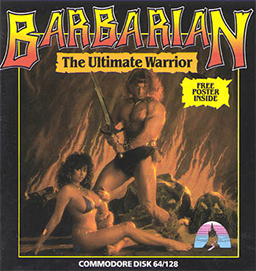 The game sees players take control of the titular warrior in a quest to save the Princess Marianna from the evil wizard Drax, and  will also come with a multiplayer mode that lets players battle across platforms. Barbarian – The Death Sword will be available on PC, Mac, iPhone and iPad in February of this year, having been pushed back from 2011 to refine the levels of difficulty and cross platform multiplayer.
Check out the trailer below for a sneak peek at the game, and-
Prepare to Die!