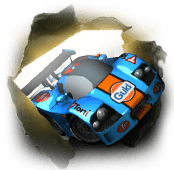 Digital Reality provides us with the latest scoop on the Hungarian (Budapest) developed Bang Bang Racing. As time draws near to being released, we are being provided with new screenshots as well as an action packed trailer.
In addition to the assets, the details of car models have been revealed. The following are the different car types that will be available to play:
• N-Dura Class: With strong grip, good control and moderate speed, this intro class will bring you up to speed and deliver your first taste of nitro boosting!
• Evo GT: Faster, greater drift around corners, insane acceleration with even more nitro – mastering these beasts is a bit of challenge.
• Protech: You're going to need some wicked moves to conquer these racing machines – don't forget to use those brakes either, as these babies can move!
• Apex: Hope you're ready for the major leagues as these are the fastest cars on the planet – highly agile but also fragile, requiring the tightest control imaginable.
Ability to customize vehicles has always been a key interest of mine whenever playing a racing game. Mostly I am referring to the Gran Turismo series that provides the chance to upgrade vehicles upon purchase. Bang Bang Racing offers customization through model type and car skins. There are eight unlockable skins for players to earn while they play.
Be sure to check out the screenshots below to see the differences in car types. Additionally, the trailer below shows off the unique mulitplayer experience as well as top-down racing.
For additional racing games, check out our racing articles.