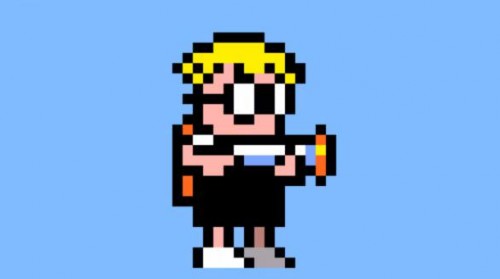 After a long wait, the brilliant little platformer Mutant Mudds has finally globbed onto the eShop. For those unfamiliar, this new title from Renegade Kid puts players in the role of Max as he jetpacks along a 12-bit world, armed with his trusty water cannon. You can snag up this gem for $8.99 as of today on the eShop service, and if the hype is correct, this may be one of the most promising releases we have seen thus far in 2012.
If your still craving something simplistic with some retro flare, Flipper 2: Flush the Goldfish is also available on the DSiWare for $4.99 and features a one-button control method with a level editor in tow. For a mere $1.99, Lola's Alphabet Train has also pulled in to give younger players a brand new way to learn their words and meet some vibrant characters.
Over on the WiiWare, Newton Vs The Horde lets players use physics to assist scientists in "splatting" monsters for 500 points.
Finally, those who want to get a taste of Mario & Sonic at the London 2012 Olympic Games are in luck, as the 3DS demo has arrived and can be downloaded for no cost.
So, who else now must make room for some Mudds this week? Leave a comment down below of what you're interested in.