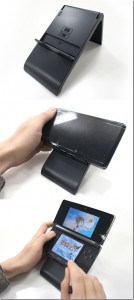 Yesterday we discovered that Kid Icarus: Uprising would be compatible with the Circle Pad Pro to help out lefties. Today we find out via tweet from creative director Masahiro Sakurai, that the title will ship with a 3DS Stand of all things.
The 3DS Stand set to ship with the title is apparently designed to keep the console steady while playing. I'm not sure whether we should be concerned as to why it was necessary to create a stand peripheral to keep the console steady while playing this game, but for now I'll reserve judgement until we can see the game in action with the stand and without it.
You can check out a picture of the stand to the right (click for full size). What do you think of this news? Let us know in the shoutbox and comments section below.