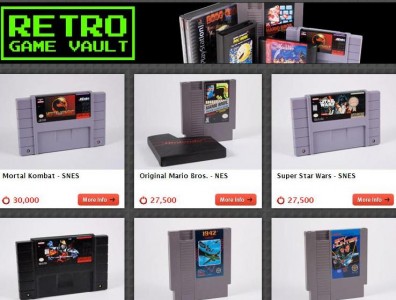 Gamestop…Classic Games? Don't adjust your monitors. This is a thing that is happening. As of now, Power Up Rewards members can now redeem their hard earned points for actual cartridges of some of gaming's greatest.
So what games are up for grabs? The likes of Mortal Kombat (SNES), Mario Bros. (NES), Super Star Wars (SNES), and several other common yet famous titles. This all sounds like a fantastic idea at first, but then you can look at the point prices, which tell a different story. Mortal Kombat commonly goes online for $5.00. Gamestop are asking a whopping 30,000 points for one, presumably used cartridge of the same exact game. Atari cartridges are also promised to be coming soon, with even E.T. getting on the action. With these prices though, I just don't see this taking off.
I may sound overly negative about the whole thing, but think about it. It takes a lot of trades and purchases to gain 30,000 points and when you compare the point value (which is generally 20 points per dollar) to the asking price here, you can do much better by just cashing in for vouchers or gift cards and finding these gems in a pawn shop for pennies on the dollar. Admirable idea, Gamestop, but a rather poor execution.
The Power Up Rewards as a whole though is a GOOD idea and free is still free, so those who have no other options available when it comes to snagging up their classic titles might want to look into this. Everyone else…well…just save for that new controller.