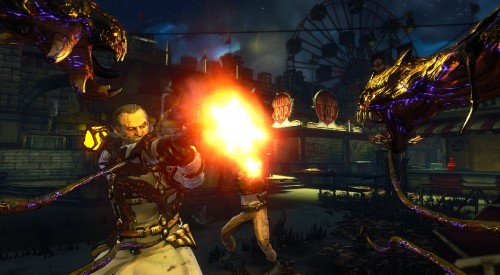 Of cause you do! The Darkness II looks like one damn fine game and if you're like us then you can't wait to get your hands on it. Well then good news for you Sydney gamers, The Darkness II will be fully playable at INSERT COIN(S) – a new(ish) event that brings together games, music and art along with geek culture and fashion all in to one venue Sydney's very own Oxford Art Factory.
The Darkness II will be fully playable across 10 screens along with a bunch of old school retro arcade games such as Pacman, Donkey Kong, Galaga, Frogger, Space Invaders, Tekken 5, Marvel Vs Capcom, Street Fighter 2 and Metal Slug X just to name a few, which are all FREE to play on the night.
This will be Insert Coin(S)' third appearance, with its first arcade night successfully hitting it off in September last year and its second incarnation held last November, saw gamers getting a preview taste of Assassin's Creed: Revelations before its release date.
INSERT COIN(S) Presents: The Darkness II is taking place at 6pm at Oxford Art Factory, Thursday January 19. Entry to this all of this gaming goodness cost only $10 – available at the door on the night or online via Moshtix
For more information about Insert Coin(S) check out their Facebook Page