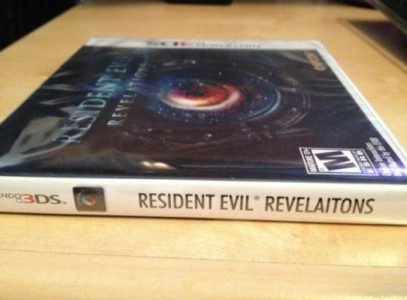 If you haven't yet seen one of the many re-tweets, the picture you see above is of course Resident Evil Revelations in all it's retail glory (North American Version). Notice anything…wrong? It seems Capcom have yet again made a box-art boo boo with this title and put the "I" in Revelations.
Capcom have already commented on the matter, with Christian Svensson stepping in with this comment on the Capcom Unity Forums:

We're aware that this has affected a portion of the production run. There's likely to be some news to follow closer to launch on this topic.
After leaving the 360 off the front of Ultimate Marvel vs Capcom for the Xbox 360 last year and the ever-classic IGN Okami debacle, it seems the final editors have yet again missed their mark of perfection. Honestly though, it's the game that matters and for some reason, I feel this is becoming a unintended yet humorous calling card for Capcom's heavy hitting releases. Once Svensson elaborates further on a fix, we will be sure to bring you an update.