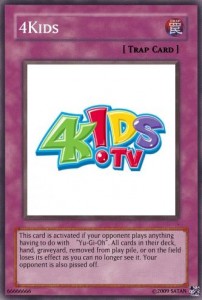 4Kids Entertainment, famous for destroying all good anime, particularly One Piece, have won their court case over allegations made against them by TV Tokyo and NAS regarding illegal use of Yu-Gi-Oh royalties which robbed them of millions of dollars. But wait, 4Kids activate their trap card!
So how did 4Kids win the case? Well, even though they did withhold profits from their original rights owners, 4Kids Entertainment have been ruled victorious in their bankruptcy case with TV Tokyo and NAS, as the lawsuit was filed under invalid circumstances which also seem to have breached some kind of rule in the license that 4Kids themselves made sure to utilise in the event that they would be sued by the people who give them something to make money off of.
Long story short, the bane of the anime industry will continue their villainous ways and the Japanese are once again left on the losing side to the Americans. Life really isn't fair is it, TV Tokyo? Oh and Yu-Gi-Oh fans, 4Kids' license is still in effect as a result of the court's ruling in case you were wondering. But you probably weren't.