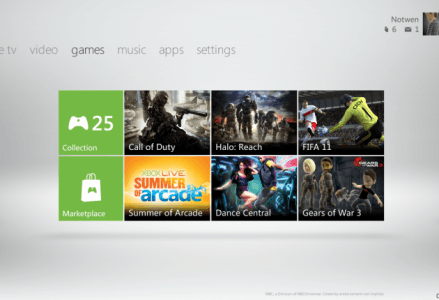 The new dashboard update for the Xbox 360 dropped today to a great deal of controversy. Please note that the image above is of the supposed design we were to get. What we got is the nothing like that concept shown above. With an incredibly poor design layout, over complication of previously simple features, redundancy of said previous features, and miniscule Cloud Storage space per user, the latest version of the dashboard is not a step foward, but a step in the wrong direction.
Not only has the latest update caused mass disruption of Xbox Live services, it has also made several previous features absolutely redundant and overly convoluted. By altering the previous "Invite to Game" feature into a new one called "Send a Beacon", the new Dashboard has created unnecessary convolution of a once easy task.
That isn't all though, to take full advantage of your avatar items, you now have to click into your avatar to see any props or accessories. Instead, you see your avatar perform a generic action until you click into him. To make matters worse, premium themes are now entirely pointless, as they are majorly covered up by an unalterable gray foreground. This gray foreground gives players no choice in order to have a bright coloured dashboard, instead they are forced to have a dark gray colour scheme. There is no way around this. If you think that is bad, most themes make the menu titles unreadable as they blend in too much with themes.
The design itself it incredibly poor, being difficult to navigate with both a controller and a kinect. The new dashboard update attempts to be simple and stylish, but instead becomes crowded and messy, with ugly mismatched colours.
If you were excited for the new features like Bing and Cloud Storage, sorry to rain on your parade, but they both are incredibly poorly concieved new features. The Cloud Storage provides users with a total of a measly 512mb. Yes you read that correctly, 512mb of storage space. Bing searching is not much better as it is highly inaccurate and struggles to fulfill the most basic of searches.
This all makes up one very big step in the wrong direction. This dashboard update evidently needed much more thought in all aspects, unfortunately now we gamers will be the ones who have to suffer the poor design and technical issues. What do you think of the new dashboard? Let us know in the shoutbox and comments section below.