Remember Renegade Ops? That rather awesome twin stick shooter that released on PC, PSN and XBLA? Well you should, because it was fantastic. Released by SEGA and boasting the same game engine as big brother game Just Cause, Renegade Ops provided a decent chunk of explosive heavy action, and gained a highly respectable 8 out of 10 here at Capsule Computers.
SEGA have just announced some details for two DLC packs to be released on December 21. The Coldstrike Campaign continues the storyline of the main game, bringing a new villain to the fore with three new missions set in ice cold environments. Priced at £3.59/€4.49/AUD$6.25 for the PlayStation Network, and 400MSP for Xbox LIVE Arcade, Coldstrike will include new enemies and challenges for the seasoned Renegades out there.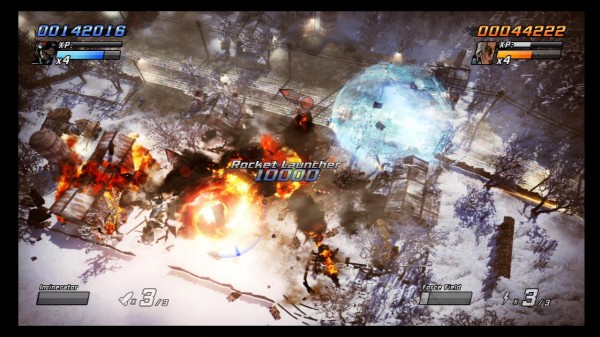 The second DLC pack is more of a character expansion set, adding two new heroes to bring the total number of playable Renegades up to five. Crystal and Blazemo bring a custom armoured vehicle and an off road racer to the game, each with their own unique abilities to take down the enemy ranks. The Reinforcement Pack (Vehicle Pack in the US) will be priced at £1.99/€2.49/ AUD$3.45 for the PlayStation Network, and 240MSP for Xbox LIVE Arcade.
In case you missed out on the glorious explosion rich goodness that is Renegade Ops, check out the Accolades trailer below.