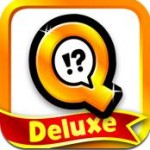 I've got to say, along with presents, well-decorated houses and food, app sales are up there with one of the reasons I love Christmas. UTV Ignition Games, and developers Denki, have announced that their hit app Quarrel Deluxe will be available for the special Holiday sale price of $0.99!
The sale has begun and will continue through to January 2, so if you find yourself in an environment that isn't internet friendly and you can't download the app in time (cough, in-laws place, cough) then don't worry – they've given you a little leeway!
Quarrel Deluxe won IGN's Best Mobile Board Game of 2011, a great mix of board game strategy and Scrabble-like features. You have to battle your opponents for control of an island split into territories, by creating the highest scoring word from an eight-letter anagram.
So what are you waiting for guys? Quarrel Deluxe is available on iPhone, iTouch and iPad for $0.99 for a limited time! Grab it HERE. Not convinced? Check out our review of the game HERE
And, there is rumour of it coming to Mixrosoft XBLA soon! So keep tuned to Capsule Computers for more news as it comes!