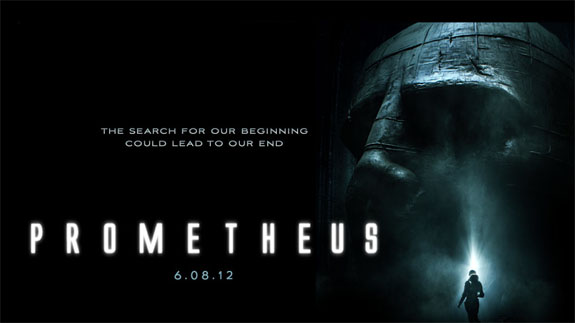 Sci fi fans take note, Prometheus is coming. But why should you care about this big budget science fiction horror epic? If you need more reason than that- read on…
It's directed by Ridley Scott, the man who brought the world sci fi classics Alien and Blade Runner. When first announced Prometheus was due to be a continuation of the Alien universe, a two part prequel exploring the origin of the 'Space Jockey' (the pilot of the ruined ship encountered at the beginning of Alien, thought to be part of the race that created the xenomorphs) .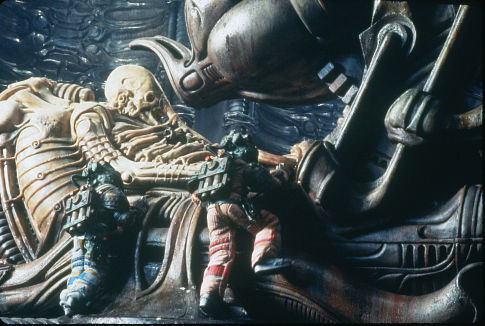 Although it still contains some influence from the Alien universe (as can be seen from Scott's comments below, originally from an interview with Filmophilia) Prometheus has since grown to become a film to stand on it's own, certainly drawing on the mythology of the Alien universe, but not restrained by the ever horrific 'sci fi prequel' tag:
"I think one of the reasons why I've never gone back to science-fiction, even though I've often noodled around, thought about it, looked for story, looked for material, is that there's a nice purity to the original 'Alien'. It's fairly pure. And ['Prometheus'] does actually raise all kinds of other questions, because if someone could, a being, could be as monstrously clever to create something like we experienced in the very first one [ie. the 'Alien' xenomorph] – I always figured it's a weapon, and I always figured that [the ship in the first 'Alien'] was a carrier of weapons. Therefore, who is that, inside that [Space Jockey] suit? That wasn't a skeleton, that was a suit. And if you open up the suit, what do you get inside it? And why were they going, where were they going?"
[pro-player width='530′ height='253′ type='video']http://www.youtube.com/watch?v=anJMjzpmHa8[/pro-player]
Now, if you know anything about Greek mythology the name Prometheus will be familiar. Although it's the name of a ship in the movie, looking at it in a more metaphorical sense can maybe shed a bit of light on the plot and tone of the film. Prometheus was one of the Titans of Ancient Greece, an old god whole stole the gift of fire from Zeus to bestow it upon humanity. What did he get for his trouble? Eternal punishment. Prometheus was chained to a rock and had an eagle tear out and eat his liver, and being a god, his liver would grow back, so this happened every day.
Eternal punishment via disembowelment for bringing  a hidden power to a lesser race. Hm. What could that possibly entail? Of course the official synopsis for Prometheus has been released, and goes like this:
Ridley Scott, director of "Alien" and "Blade Runner," returns to the genre he helped define. With PROMETHEUS, he creates a groundbreaking mythology, in which a team of explorers discover a clue to the origins of mankind on Earth, leading them on a thrilling journey to the darkest corners of the universe. There, they must fight a terrifying battle to save the future of the human race.
Now, in the same interview quoted above, Scott ruled out any possibility of the infamous xenomorphs appearing , making accurate  use of the phrase "squeezed it dry" along the way. But by no means does that mean Prometheus will be lacking in horror, and possibly some new nasties.  The two teasers released today (trailers for a trailer if you will, with the full trailer released tomorrow) show off a few glimpses of the action, and Scott himself discusses the team of characters coming across "dangerous elements that…are capable of eviscerating all of them". Eviscerating. Nice.
[pro-player width='530′ height='253′ type='video']http://www.youtube.com/watch?v=kn3YouxdY5k[/pro-player]
So the set up is rich in mythology and being handled by an incredible director who knows the world like the back of his hand. What about the rest? Well writing duties have been taken care of by Damon Lindelof, whose name will be familiar to anyone who has ever seen Star Trek (yay), Lost (yay?) or Cowboys and Aliens (hm). Casting wise there's quality all round – lead Michael Fassbender is one of the industry's biggest rising stars, you've probably seen him in X-Men First Class as Magneto, and probably not seen him in the fantastic Hunger, where he played Bobby Sands , leader of the 1981 IRA Hunger Strike, to disturbing perfection.
Watchmen's Patrick Wilson, Idris Elba and Guy Pearce round out the XY side of the cast, with the women bolstered by Oscar winner Charlize Theron and the original Girl with the Dragon Tattoo – Noomi Rapace (also to be seen shortly in the second Sherlock Holmes film).
There's a lot to be excited about, and the snippets we see in the teasers today will no doubt pale in comparison to what the trailer reveals tomorrow (fingers crossed). Prometheus is due in cinemas in June next year, so keep an eye out for more news and trailers from Capsule Computers.