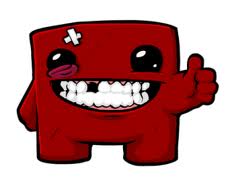 The Humble Indie Bundle returns – this time with Super Meat Boy, Shank, Jamestown, Bit.Trip runner and NightSky. For the next 14 or so hours you can head on over to the humblebundle site and pick up a deal that is as awesome as you choose to make it. That's right – you choose the price! If you pay more than the average contribution (currently sitting at around $5 US) then you get even more – Gratuitous Space Battles and Cave Story+
This collection would usually cost upwards of $100, and includes some truly awesome titles – Super Meat Boy alone scored a perfect ten here at Capsule Computers, and you can pay as much as you want for it and up to six other games! Just to add to the deal – everything is DRM free, and can be installed as many times as you like and can even be activated on Steam. The bundle is available for Mac, Windows and Linux, and you can even choose how much of your payment goes to whom – charity payments are going to the American Red Cross and the Child's Play Charity, whilst the developers and Humble Bundle Inc can also pick up as much or as little of your cash as you see fit.
So be quick! And grab yourself a lovely charitable bargain of indie goodness, just in time for the holidays (you can also gift code the bundle too, if you're feeling generous).