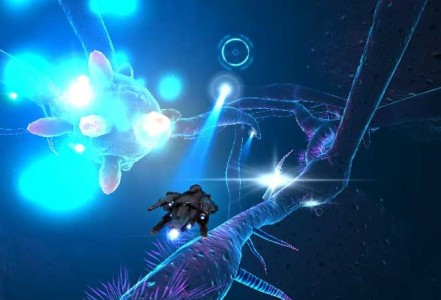 A few months ago, we seen a title by the name of Dream Trigger 3D come out for the 3DS. If you remember it, this was around the time when Child of Eden came out, and the two had quite a few similarities with their narratives and visual design. Sadly, Dream Trigger was a confusing mess as it tried too hard to stand apart from it's competition and while it was beautiful to look at, it just took too much work to actually play correctly. Months later, you might be asking why I am babbling on about that previous release, and that brings me to Nano Assualt, a new visually stunning 3D Shoot-em which is a follow-up to the Nanostray series for the Nintendo DS which has released today on the Nintendo 3DS.
For many reasons, this title has captured my attention for quite some time and it appears this title has been able to capture an easily accessible control scheme to go right along with it's breathtaking level design. In Nano Assault, the player must trek through 32 twisted cell stages and dark worlds with rugged landscapes that become more challenging as you improve.
Features Include:
Upgrade weapons to fight off bigger infections.
Mission mode, an unlockable arcade style cell stage where you must destroy enemies against a time counter.
Leaderboard and Hall of Fame modes let you publish your level scores and compare them with friends online.
Detailed enemy Nanopedia provides information about each adversary.
If you are by chance looking for a in-depth "Child of Eden-esque" experience on the go, Nano Assault is certainly looking to bring a lot any 3DS owners library and is priced at just $29.99. For even more information, you can check out the official website at www.nanoassaultgame.com.