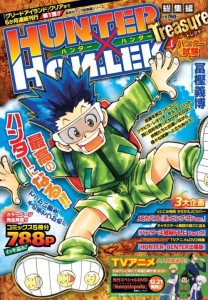 To coincide with the massive revival of the Hunter x Hunter series (the return of the manga and the anime reboot), Shueisha have announced that they will be releasing compilation volumes of the series. Not only will this be quite handy for those just jumping in to the series, it's also great for those who have yet to collect the series.
These new compilation volumes will cover each saga of the series so far excluding the Chimera Ants arc. The first release will cover the entirety of the Hunter Exam arc which has officially hit shelves across Japan today. Following todays release, will be the Heavens Arena arc compilation to be released January 13th, then the Phantom Troupe arc compilation will be out in February followed by the Greed Island arc compilation in March.
What do you think of these compilation volumes? Let us know in the shoutbox and comments section.