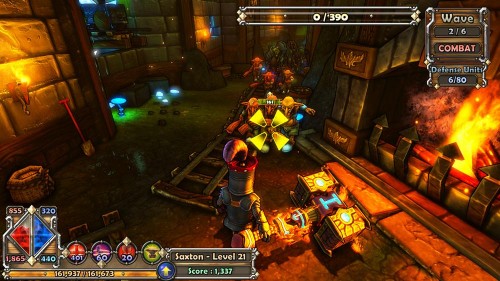 Sick of defending that same old boring castle? You should go outside and play more!  Trendy Entertainment, Reverb Publishing, and D3Publisher are about to unleash the first part DLC for their exceedingly addictive downloadable title, Dungeon Defenders where players will be able to venture outside of their castles for the first time ever!
The Quest for the Lost Eternia Shards DLC is out now for Steam for only $3.99 (buy it here!) and will be available for Xbox 360 and PlayStation 3 on December 21st. This is just the first of 4 packs however, so keep an eye out for more as each quest will each take players through an entirely new campaign map, PvP map and a new challenge mission with new new story cinematics, enemies, 10 all new weapons, a new pet, a new boss, and more!
Gamers can also buy the Complete Pack featuring all 4 parts of the Quest for the Lost Eternia Shards on Steam for a limited time for only $9.75 (retail $12.99). Not only will it grant players access to the content as it releases, but also early access to Nightmare Mode- an even harder difficulty mode which will eventually unlock all 4 DLC packs and incorporate all of the new enemies into the full campaign for PC owners.
Not excited yet? Check out the trailer below and see why you should be!
Note from the publishers: The 10 new weapons and pet will be patched into the Console version in the first patch early next year.