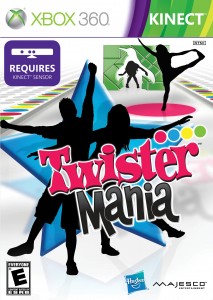 Fans of Twister who are itching for a proper console release have something to pick up finally, as Majesco's Twister Mania is now available for the Xbox 360 Kinect. This re-imagining of the iconic party game has players play through three different modes with 16 different variations where players must try to twist their bodies into one of the 1800 shapes within.
Majesco and Hasbro have both released a statement to celebrate this new motion-based release:
"TWISTER was one of the first games where you used your body as the game piece." said Jesse Sutton, CEO, Majesco Entertainment. "TWISTER™ Mania is the perfect marriage of this all-time favorite game brand and the Kinect technology, as now your body is the game piece AND the controller. We know families and friends will have laugh-out-loud fun while playing TWISTER™ Mania this holiday season while enjoying the game's new play patterns and amazing functionality."
"TWISTER is an iconic brand that is woven into the fabric of pop culture," said Mark Blecher, Senior Vice President and General Manager of digital media and marketing at Hasbro. "The Kinect technology makes TWISTER Mania come to life and allows kids and adults to enjoy uninhibited full body fun in a whole new way."
Even though the concept sounds a bit like "Hole in the Wall", this version is still very intriguing as Majesco have packed it full of both color and charm in order to appeal to gamers of all ages. Twister Mania can be found wherever videogames are sold for the price of $49.99 (US).