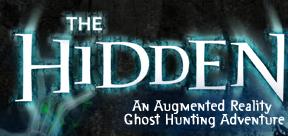 Want a trip into the paranormal? Get that 3DS out and prepare yourselves as The Hidden has finally hit shelves. For those a bit unfamiliar, The Hidden turns the handheld into a portal to the astral plane, allowing you to become a paranormal investigator and search, capture and destroy supernatural entities in real world environments, using the 3DS' camera.
It's quite an interesting concept, and definitely an idea that pushes the platform to think outside the box. To celebrate the release, 1st Playable and Majesco released a statement, along with some new details and features that players can spook up when that snag a copy.
"The new genre of augmented reality is an exciting direction for video games because it combines the real and virtual worlds in an unprecedented way," said Jesse Sutton, CEO, Majesco Entertainment. "The Hidden is all about bridging worlds which conceptually is a great fit for the ghost hunting theme. Gamers everywhere will get a thrill out of discovering what's truly hidden in some of their favorite real-world spots."
Experience the world of augmented reality like never before as you utilize the Nintendo 3DS camera to help you scan, detect and hunt ghosts. As a member of the elite squad known as the Ghostly Entity Investigation and Strike Team, (G.E.I.S.T.), you must work with your team to destroy evil spirits and neutralize mysterious outbreaks that pose threats to all mankind. To find every ghost in the game, players must also bring their Nintendo 3DS with them to new locations and investigate the world around them in twelve exhilarating missions.
Additional features of The Hidden include:
Prepare to battle powerful bosses using your full arsenal of acquired tech. With unique strategies required for each enemy, you will soon find that some become long-running nemeses.
Perfect the tracking process to catch the stealthiest spirits, banish stubborn creatures that can't be destroyed, and take down the malevolent entity behind it all.
Engage in different activities including:
o "Scanner": Scan your current area using the Nintendo 3DS camera and Wi-Fi hotspots.
o "Tracker": Hunt for ghosts and pull them out of their world and into ours.
o "Shooter": Hunt and shoot ghosts using the latest in paranormal weapons tech.
o "Wormhole": Navigate through tunnels of another dimension while battling ghosts.
o "Stealth": Avoid being detected by entities that are too great in number or extremely tough to handle with your equipment.
Take photos of entities with the Nintendo 3DS camera and keep a log of your discoveries while using your map to keep track of where you've been.
The Hidden marks the first Augmented Reality title on the 3DS, so there is no doubt that we will soon see people everywhere holding their handhelds and searching for ghosts as they walk through schools, work, and shopping malls. This time though, no exorcists will be needed.