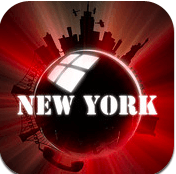 Another Way 2Play have taken all the awesome things of New York noire, put in some ridiculousness, and then put it into a pinball machine. Or should I say an awesome machine?
As a huge Pinball fan (seriously, I spent so long playing that Windows Space Cadet pinball game when I was younger) I think this is going to be a really fun little app. After all, what is better than an awesomely themed pinball machine?
Featuring a whole range of superbly detailed representations of New York, noire themes, the possibility of up to five simultaneous balls, a secret New York night level, a high-performance physics engine, great sountrack, local rankings, and Game Center. Plus, some great collectable trophies.
Pinball City New York is available for iPhone and iTouch for $1.99 – get it HERE
Pinball City New York is also available for iPad for $3.99 – get it HERE
Check out the totally awesome trailer showing off some of the features and theme you can come to expect from Pinball City New York.